Trattoria Ora, a New Astoria Restaurant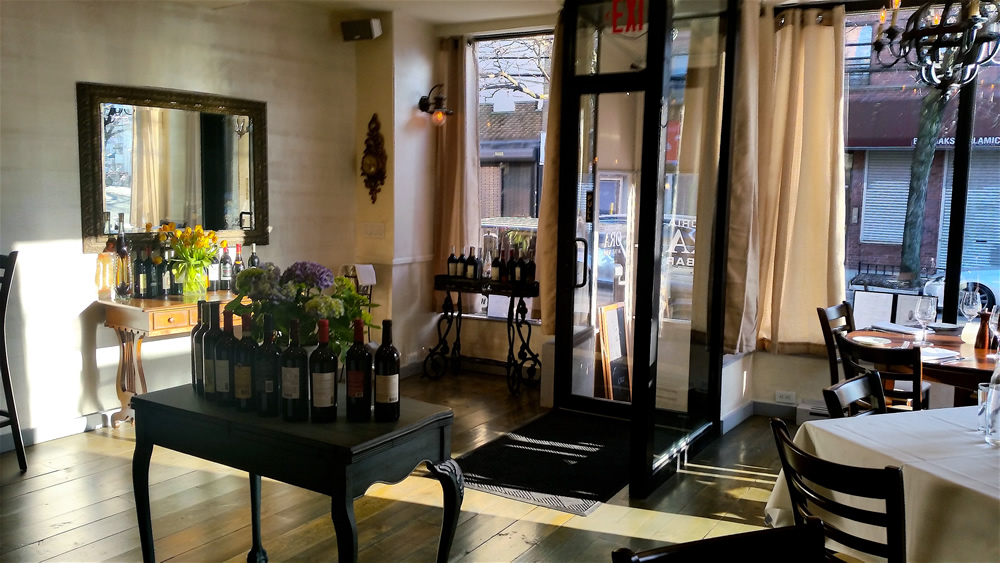 Old Astoria has so many more dining options today than even a few years ago. OANA was thrilled that a new restaurant has opened in the space formerly occupied by the El Conuco eatery–Astoria Boulevard at 18th St. And now that spring has finally arrived, ferry commuters will be able to walk up from the dock at Hallets Cove and luxuriate in the relaxed ambience and delicious cuisine at Trattoria Ora Wine Bar.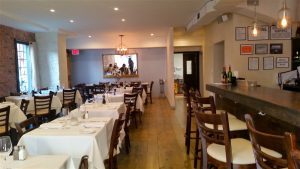 As you walk in the door, you're struck by the light, bright, sparkling room, which feels both spacious and intimate—a venue that would suit both a family reunion or a first date.  White tablecloths add an elegant note that will appeal to the gourmet, but there is also a bar area for those who just want a glass of wine. On a recent visit, we were greeted by co-owner Mimi Besi, who gave us the origin story behind Trattoria Ora, which has its official opening in January. Her husband and chef Ramo Besi (absent that evening at their other restaurant in Manhattan) was on his way to Costco, saw the "Vacant" sign on the space and said, "I'm going to call that number and see what the story is." And so, the new venture was born.
"I live in the neighborhood," Mimi told us, "It's great to meet people in the neighborhood when I'm walking around that I know from seeing them in the restaurant." The neighbors, she said, have been warm and welcoming. And in turn the restaurant makes every visitor feel immediately at home—Mimi says that she wants people in jeans and sweatshirts feel that they can drop in for glass of wine and enjoy the experience. The furniture came from a nearby market, chosen with loving care by Mimi and her daughter. Ramo Besi shops for food every day—he doesn't rely on deliveries (except for liquor), preferring to choose provisions personally.
And the careful preparation given to food shopping is evident in every aspect of the cuisine. Every dish that we sampled. Mimi and Ramo's families are both from Montenegro but the menu tends towards the Italian—pasta and risotto are prominent on the menu—but steaks, seafood and salads cater for every taste. The calamari appetizer and the house salad were light, fresh, and just right for whetting one's appetite. Spaghetti Bolognese combined fresh pasta and the perfectly mixture of hearty meat and piquant tomato sauce. The Veal Sorrentino was a delicious version of a classic Italian dish, and the fresh vegetables will make you rethink your bad Birds-Eye habit. Portions are generous but be sure to leave a little room for dessert—the tiramisu is not to be missed but the ricotta cheesecake has already made many fans!
We wanted to get Ramo's perspective on the new venture as well, so we followed up with a few questions:
Q: What are some of the challenges of being a restaurant owner/manager?
A: One of my biggest challenges I would say is trying to make sure all my customers are satisfied.
Q: How is having a restaurant in Astoria different from Manhattan?
A: Owning a restaurant in Astoria is more of a neighborhood/family atmosphere . . . In the city it's more of a business/fast-paced atmosphere.
Q: What is the most satisfying thing about being a restaurateur in Astoria?
A: Astoria is my home so what I can say is that when I walk into my restaurant I feel at home. . . and that's what I hope for my customers at Trattoria ORA.  I of course want them to enjoy their dinner, but I want them to feel at home.
Q: Do you think the new ferry service from Hallets Cove will affect the restaurant's traffic?
A: Yes, it's definitely a great addition for all the businesses in our neighborhood.
Q: If you could cook for one person in the world, who would it be?
A: Mother Teresa.
That would be a fascinating dinner for sure! While we can't promise that you'll run into Nobel Prize-winners at Trattoria Ora on any given evening, we do predict that locals and visitors alike will be returning for second helpings (and to try to the menu items that they missed the first time around) for a very long time to come.
Trattoria Ora Wine Bar
18-01 Astoria Boulevard,
Astoria, NY 11102
718-433-9680
Recommended Posts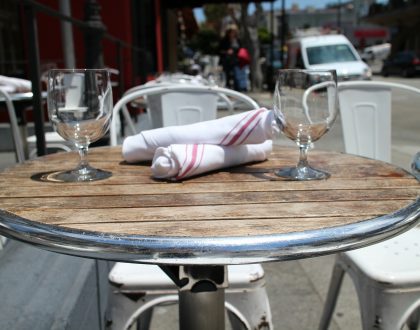 November 17, 2023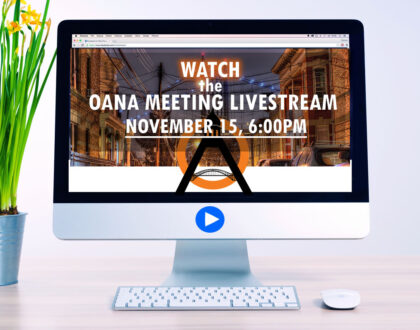 November 12, 2023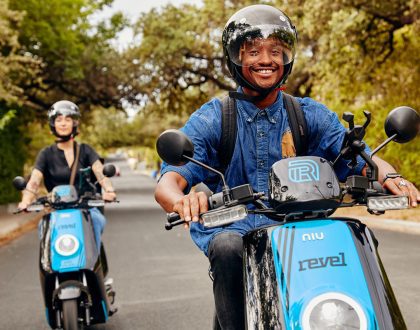 November 9, 2023