The Roosevelt Island Operating Corporation Monument Honoring Journalist Nellie Bly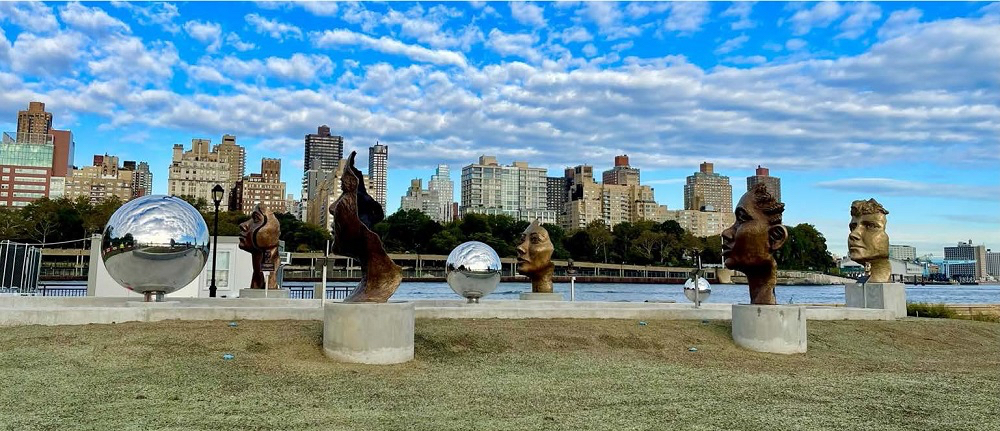 The Roosevelt Island Operating Corporation debuted a monument honoring journalist Nellie Bly on the island's northern tip. The work was designed by Amanda Matthews of Prometheus Art. The monument is named after Nellie's first work entitled Girl Puzzle and consists of five bronze faces sculpted with the image of Bly and female faces representing Asian American, black, younger, older, and queer women. While a few faces are in pieces, others appear cracked and repaired, representing the artists' attempt to convey the women's struggle against adversity. Behind each face are words by Bly on the spirit and complexity of women and their stories.
New York Governor Kathy Hochul expressed her remarks on the monument honoring the renowned journalist,
"As the first woman to ever serve as governor of the State of New York, I'm proud to lead the state that was the birthplace of the fight for women's rights". She continued, "This monument, with its five faces representing the broad diversity of so many women, will provide a poignant educational and meaningful destination for visitors to reflect on our shared history and remember that women's rights are human rights."
Nellie Bly gained a lot of notoriety when in 1887, with only 23 years of age, she pretended insanity to be admitted to the Blackwell's Island insane asylum. There, she reported the inhumane conditions toward women as they were being treated. This report led to the release of her book "Ten Days in a Mad-House," considered the first piece of investigative journalism.
President and CEO of Roosevelt Island Operating Corporation Shelton J. Haynes also spoke a few words on the monument,
"We are proud to be leading the charge in support of statues featuring women, having commissioned such an important work of art representing women and equality,". He continued, "This, coupled with our landmarked Blackwell House and iconic Tramway makes Roosevelt Island an exceptional destination where history, education, and current events intertwine."