The first renderings for a new 19-story Queens Plaza North residential tower have been released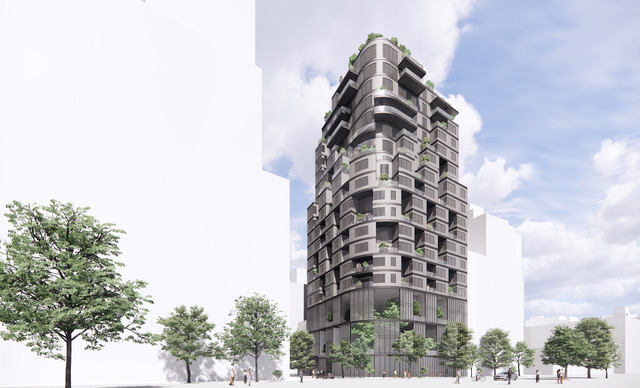 According to New York YIMBY, the first renderings for the 19-story residential tower, 24-01 Queens Plaza North, in Long Island City, Queens, have been revealed. The development is designed by ODA New York and developed by New Empire Corporation. Expected to house over 100 condominium units, the building will contain studios with up to two bedrooms. Amenities will include a penthouse resident lounge, communal outdoor spaces, on-site parking, and a fitness center. The lower levels will also contain an unspecified commercial volume.
The building displays the studio's signature style with numerous sets of balconies and cantilevered floors. The first three floors are partially enclosed in double-height floor-to-ceiling glass with a series of voids that will contain amenity spaces. Above the third floor, the façade will comprise a dark gray coating with oversized windows and varying balconies. Finally, the project features sweeping curved corners, giving the building's body a uniquely modern appearance.
ODA and New Empire have previously worked together on the 208 Delancey, a condominium located on the Lower East Side, which is expected to open this spring.
24-01 Queens Plaza has a total area of 117,344-square-foot with a low-rise commercial property. The New Empire acquired the property for $26 million. This is the second project by the developer in Long Island City. The other development is the seven-story, 77-unit condominium The Neighborly located at 37-14th Street.
Chief marketing officer of New Empire Emily Zhu shared gave her remarks about the development, "With many young professionals renting in Long Island City for quite some time, now could be the time for them to purchase their own home." She continued, "With close proximity to Manhattan and a more affordable price point, Long Island City is transforming from an industrial hub to a diversified, young community."
Bentley Zhao, chairman and CEO of New Empire, also spoke a few words, "Situated on the Northern side of the Queensboro Bridge, we were attracted to this location as it's a dynamic gateway to Manhattan and continues to be in demand." He continued, "From the success of our other LIC project, The Neighborly, we predict this too will draw interest from first-time buyers, many being young professionals who have settled into New York City from outside of the United States, specifically Asia."
Construction is expected to begin in the fourth quarter of 2022.
Rendering of 24-01 Queens Plaza North – ODA New York