The 10th Annual Welling Court Mural Project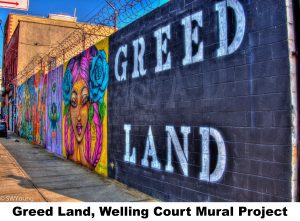 Astoria has become a haven to both the visual and the performing arts in recent years, with the Noguchi Museum, the Queens Council on the Arts, Socrates Sculpture Park, the Astoria Performing Arts Center, the Headwall Theater Company, and the Museum of the Moving Image all making their home in the neighborhood. But there's a hidden gem near the East River waterfront that even some Astoria residents don't know about. The Welling Court Mural Project is a highly unusual street art project that has turned a few quiet residential blocks into something truly extraordinary.
Saturday, June 8 is the public opening of the 10th Annual Welling Court Mural Project, The event runs from 12 noon to 7 pm, culminating in a block party where the artists and the community mingle and celebrate another successful installation.
The Welling Court Mural Project is the host to a mixture of the best-known names in street art and a diverse array of newer artists, from New York City and around the globe. The Public Viewing on June 8 is a unique opportunity to watch the artists at work creating their visual experiences and chat with them about their process and vision.
The origins of the Project go back to 2009 when members of the Welling Court community invited Ad Hoc Art in Bushwick to bring their expertise, appreciation, and vision to beautify their Astoria neighborhood. By May 2010, over 40 murals had been installed in the streets around Welling Court and the project has grown every year as more local residents and business owners offer up their walls and even their garage doors as a canvas for street art. There are now over 100 murals to be seen around several blocks that remain up for a year and are then painted over as the next cycle of Welling Court begins.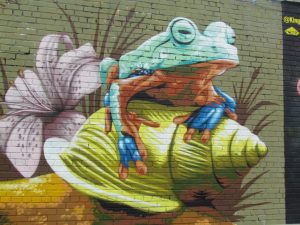 Street artists who are Welling Court alumni include Abe Lincoln, Jr., Al Diaz, AM, AVOID, Beau Stanton, Caleb Neelon, Cekis, Cern, Cey Adams, Christopher Cardinale, Chris RWK, Chris Soria, Col Wallnuts, Cram Concepts, CRASH, Crisp, D Gale, Dan Witz, Danielle Mastrion, Daryll Peirce, Dasic Fernandez, DAZE, Depoe, Don Leicht, Elle, EpicUno, Free5, Fumero, Ghost Beard, Hellbent, Icy & Sot, JC, J Corp, Jamie Hef, Jenna Morello, Jeremy Novy, Jerms, Jeromy Velasco, Joe Iurato, John Breiner, John Fekner, Joseph Meloy, Kid Lew, Kimyon Huggins, KR One, KWUE Molly, Lady Pink, Lexi Bella, LogikOne, MagdaLove, MAST, Mastro, Meres One, MR. PRVRT, Muck Rock, Noah Xfir, Onel, PANIC, Patch Whiskey, Peat Wollaeger, Praxis, Python, Queen Andrea, Rene Gagnon, Rob Sharp, Royal Kingbee, Rubin415, Ryan Seslow, SeeOne, Sest2, Shiro, Sinned, Steven Cogle, Thundercut, TOPAZ, TooFly, Trans/Noir, Veng RWK, YesOne, Zheik, and Zimad.
Welling Court Project founder Garrison Buxton, who will be making a presentation about the Project at our June meeting, told OANA: "Every year I'm humbled and wonder how it can keep better and better, but it does! The artists continue to bring their best A-game and create outstanding work for this community they appreciate so much. It is a symbiosis of appreciation, really something that moves the human spirit."
The 2019 Welling Court murals will remain on view to the public for 364 more days, but the Public Viewing is your only chance to see the artists at work. Some visitors make it a point to attend every year, while others are delighted to happen upon the installation going on. Read the press release.
How to get there: Welling Court is at the triangle created by the intersection of 30th Avenue, Main Avenue and 12th Street. To get there, take the N/W train to the 30th Avenue stop, then walk west for about 12 minutes, or transfer to the Q18 or Q102 buses and get off at Two Coves Community Garden, a block away. If you're coming from Manhattan or Brooklyn, we highly recommend taking the ferry to the Astoria stop at Hallets Cove and walk one block east. We hope to see you at Welling Court!
Photo: Welling Court Mural Project, 2018; photo credit Clare DoyleCheck out the Welling Court Mural Project press release
Welling Court Mural Images
Recommended Posts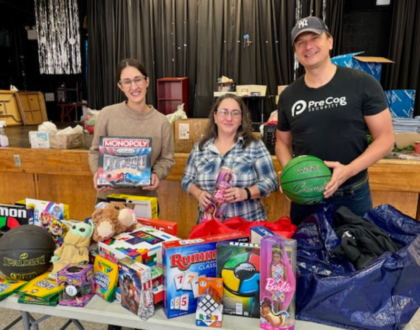 December 5, 2023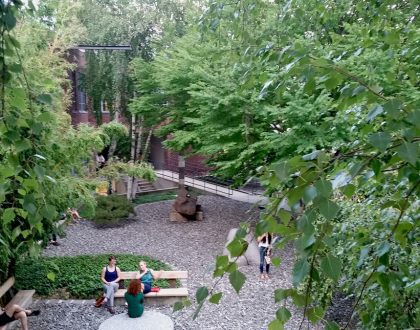 December 5, 2023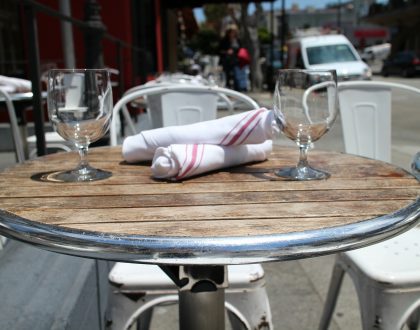 November 17, 2023