Rainey Park Report Released by Green Shores NYC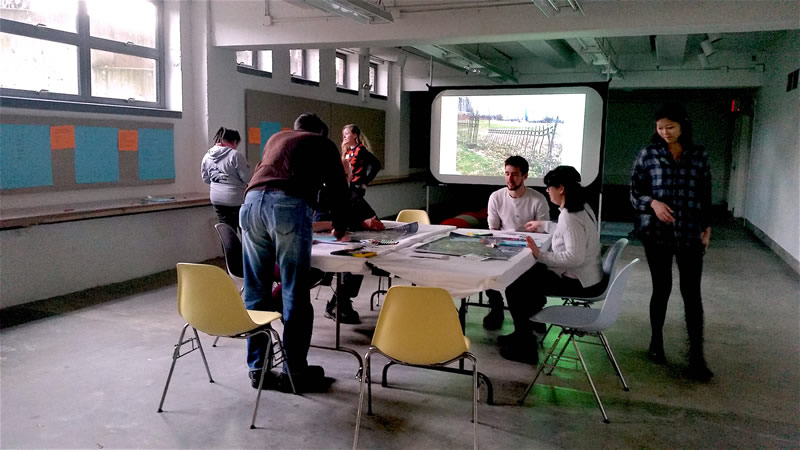 Local non-profit Green Shores NYC  this month released a comprehensive report on its 2018 Rainey Park Community Visioning project. Although a much-loved recreation space, Rainey Park has neither the amenities nor the programming that distinguish its neighbors on the East River waterfront, Queensbridge Park and Astoria Park. Through a walking tour, community input sessions and survey, Green Shores collected input from hundreds of community members and users of Rainey Park, and it is the community's feedback and suggestions for the future on which the report is based.
The Green Shores NYC report found that Rainey is enjoyed as an idyllic neighborhood park, where open space is valued for both passive and active recreation. Interestingly, it was felt that too much-programmed space would change the feel of the park. There were many suggestions for how Rainey Park could be improved, however.
Immediate and short-term recommendations included renovating the comfort station; adding benches, water fountains, and trash & recycling cans; repairing the fences along Vernon Blvd and along Costco property; creating  a dog run and a Family Area (where the current playground is); adding a designated BBQ area near the Vernon Blvd street line in order to formalize, and make safer, an activity that already takes place there; maintaining the center area as flexible passive/active recreational space while adding mobile soccer nets for permitted soccer games, and working with NYC Compost Project to create a community composting site.
Longer-term recommendations from the community for the future of Rainey Park included: widening the northern greenway connection and adding signage; upgrading the new Family and the existing playground; adding a shade structure and a separate toddler play area; weatherizing and painting  the fence along the waterfront; upgrading the existing basketball court to make it regulation basketball size; using  permeable asphalt to better drain stormwater; working with NYC DEP to create a rain garden that will take on stormwater from street, and creating a water access point for human-powered boaters.
"Green Shores NYC has perceived an urgent need to get community input on Rainey Park since 2015, especially in the context of ever-increasing development around the park," Katie Ellman, President of Green Shores NYC, told OANA. "This project's aim is to present an overview and picture of how the community currently uses the park, what changes are necessary and desired and how to make the park better for all users going forward—an overview that can be shared with local elected officials and the New York City Department of Parks and Recreation. We would like to thank People Make Parks, Partnerships For Parks, Beyond Green, NYC Department of Parks & Recreation, The Friends of Rainey Park, the Noguchi Museum, Nichole Henderson Roy and Le'alani S. Boykin for their partnership and support during this process. And especially all the community members and stakeholders who participated in the workshops, took the survey and shared their hopes and ideas for a brighter and better future for Rainey Park. Their input was essential, and we look forward to advocating for the vision put forward.'
You can find more information on the Rainey Park visioning project and download the full report here.
Photo: Rainey Park Community Visioning Report, courtesy  Green Shores NYC
Feature Image: Rainey Park Community Visioning Session at the Noguchi Museum; photo credit Green Shores NYC