Push For Astoria Safety After Death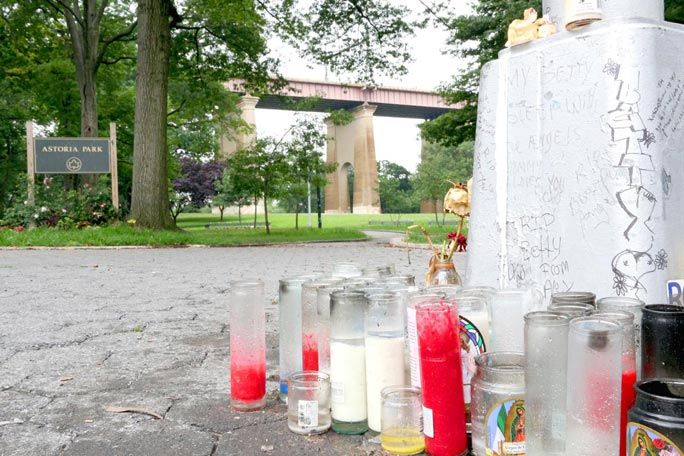 After the tragic early-morning hit-and-run that left 21-year-old Astoria resident Betty Jean Dibiasio dead on Ditmars Boulevard and 19th Street on June 27, area leaders look to create permanent measures to stop the longtime issue of speeding in Western Astoria.
Shortly after Dibiasio's death, in which police said 24-year-old Nicholas Colleran allegedly ran a stop sign, hit the young woman and fled the scene, many noted the often dangerous traffic conditions in the area surrounding Astoria Park.
The Old Astoria Neighborhood Association passed a resolution two days after Dibiasio's death that urged the city Department of Transportation to put in traffic-calming measures along Ditmars Boulevard from Shore Boulevard to 21st Street.
"We knew that traffic conditions had to be addressed," said association President Richard Khuzami. "This is particularly important considering the projected huge increase in residential and commercial entities within this area."
Khuzami said the key is to create traffic- calming devices that are permanent, such as more speed bumps and traffic lights.
While the resolution does not affect Old Astoria specifically, Khuzami said it's all connected.
When asked if a greater police presence in the area is needed, as Colleran allegedly drove irresponsibly despite traffic measures, Khuzami noted that police can't be at every intersection at all times.
He added the crux of the resolution aligns with Mayor de Blasio's Vision Zero initiative.
Khuzami also noted how the behavior associated with Shore Boulevard, which has long been a neighborhood magnet for socializing youths, spills onto side streets.
City Councilman Costa Constantinides (D-Astoria), who is also seeking permanent traffic safety solutions in the area, said streets surrounding Astoria Park beckon drivers, cyclists and pedestrians who often come into "direct conflict" with speeding traffic down Shore Boulevard.
He also said that during the summer, the corridor attracts behavior many in the community do not want.
"We have to better clean our waterfront," Constantinides said, adding he sees Shore Boulevard as an extension of Astoria Park. "This is a community park. This is not a place to come and drink beer on a Friday night."
He said the borough has other communities that have "more sanity," referring to green spaces in Long Island City.
"It's not just about one traffic light, it's not just about one speed bump," Constantinides said. "We need a comprehensive plan."
His office started an online petition for traffic safety improvements on streets surrounding Astoria Park and to "amplify voices" of those rocked by Dibiasio's death. There were more than 200 signatures at press time.
For details, visit council.nyc.gov/d22/html/members/petition-traffic-safety.shtml.
Constantinides also requested a traffic signal at the intersection where Dibiasio was killed.