NYC Goes Plastic Bag Free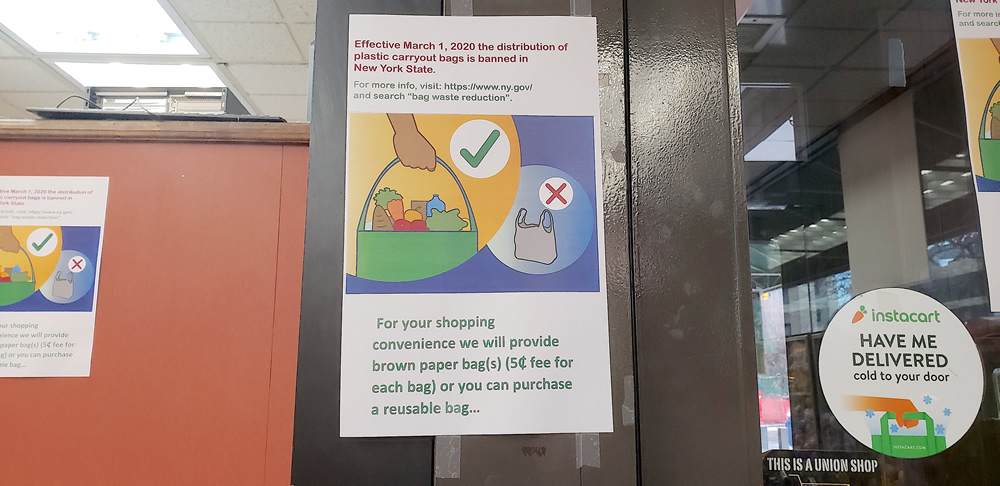 On March 1, 2020 the Plastic Bag Waste Reduction Act will take effect in New York City. This law prohibits the distribution of "plastic carryout bags" by retailers in New York State. "Plastic carryout bags" are the bags given out by supermarkets, drugstores and other retailers, and which tend to pile up under the sink of the average NYC resident.
You will now be offered the option of paper bags at the stores you shop at, but the retailer is allowed by the new law to charge you five cents per bag. The five-cent paper carryout bag fee does not apply to SNAP (Supplemental Nutrition Assistance Program) and WIC (Women, Infants, and Children) program recipients, and they are exempt from paying a fee for paper carryout bags
In certain types of retail transactions, plastic bags will be "exempt." Exempt bags include bags used to wrap flowers, plants or uncooked meat, fish, seafood, poultry or other uncooked food: so if you are at the butcher, your lamb chops may still be put in a plastic bag. Bags used for food sliced or prepared to order (i.e. a deli sandwich) are also exempt. Bags used by a pharmacy to package prescription drugs and plastic bags used by a restaurant to deliver food or to package leftovers are also exempt.
If you are a retailer who currently gives plastic shopping bags to customers, you can find more information here.
Why is the state banning grocery shopping bags? In New York City alone, residents use more than 10 billion single-use carryout bags every year, and those bags cost the city  $12 million annually to dispose of. The vast majority of the bags are not recycled: they pack landfills, litter city streets, and end up in our rivers and waterways, where they are a danger to wildlife.
Most grocery stores already sell reusable shopping bags and the smart consumer will start carrying those to the store. NYC's Department of Sanitation will be distributing free reusable bags over the next few weeks, so keep an eye for their orange bags at local community board and group meetings and other venues like greenmarkets and street fairs.
Photo by Clare Doyle