Mount Sinai Queens Blood Drive on Thursday June 20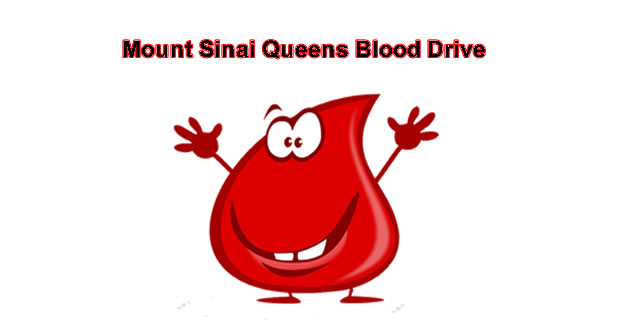 What if you could save lives by donating an hour of your time—and a pint of blood? On Thursday June 20 from 7.30 am to 7.30 pm, New York Blood Center mobile vans will be stationed in the street outside Mount Sinai Queens, at 25-10 30th Avenue.  No registration is required for the blood drive. It's a good idea to eat and drink plenty of fluids before you donate.  Bring ID with your photo or signature with you.
There is always a high demand for blood in our area, with about 2,000 donations needed each day for patients who require a lifesaving blood and/or platelet transfusion. One pint of donated blood can save up to three lives!
Who can donate blood? You may donate if you are at least 17 years old (16 years old with written consent from parent or legal guardian), weigh at least 110 pounds, and are in good health. Donors age 76 and older can continue to donate blood if they meet all eligibility criteria and present a physician's letter allowing them to donate, or are cleared by a NYBC doctor at the donation site.
If you have traveled to a country where malaria is a problem, you will be restricted from donating blood until 12 months after you return. If you spent more than six months in Britain from 1980 to 1997 you are not allowed to donate blood in the U.S. because of the possible risk of transmitting variant Creutzfeldt-Jakob disease (commonly known as mad cow disease). Some medications or medical conditions can affect your donation eligibility. More information on restrictions here.