Hurricane Ida Service Centers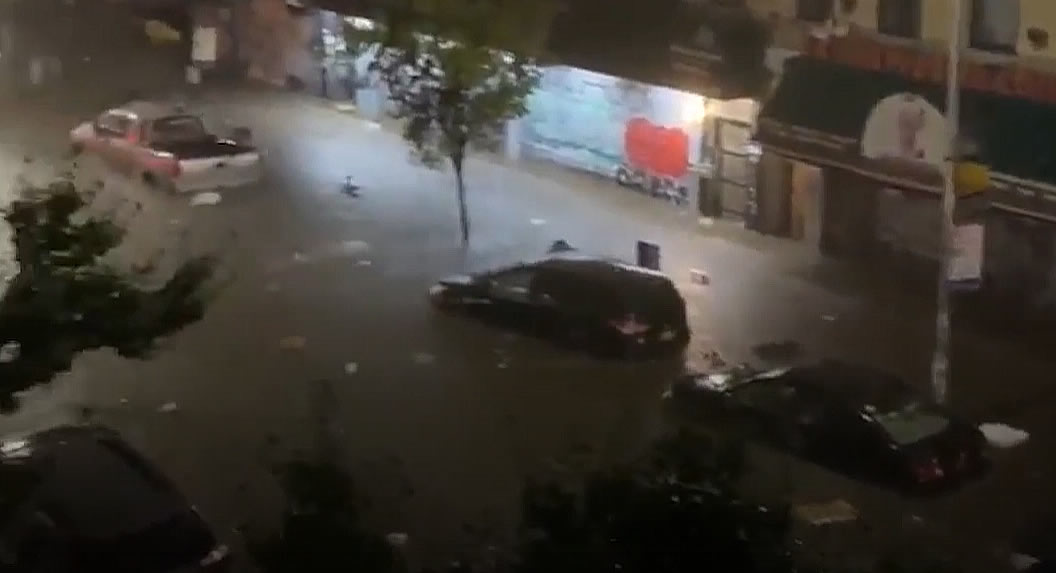 The heavy rain generated by Hurricane Ida disrupted the lives of many New Yorkers, including those living in Astoria. As a result, the NYC Emergency Management and the NYC Department of Social Services announced on September 4th that service centers will be opened citywide to aid individuals and families affected by the flash flood emergency that occurred on September 1, 2021. Five service centers will be opened every day from 8 am to 8 pm to provide in-person assistance and information on resources and services available. New York City government agencies, nonprofit organizations, and community-based organizations are working closely on-site to help connect families and individuals to critical services, including enrollment in public benefits and health insurance, housing, food assistance, and mental health counseling. Services will be available to all visitors regardless of immigration status.
"The flash flooding we experienced in New York City was devastating for many families," stated the NYC Emergency Management Commissioner John Scrivani. "To help New Yorkers navigate the various services and resources available to them, we have established a service center in each borough with assistance from our agency and nonprofit partners. I encourage those affected to visit their local service center, call 311, or access city services online by visiting NYC.gov/ida."
The following locations will open from Saturday, September 4, from 8 a.m. to 8 p.m.:
Bronx – 2365 Waterbury Avenue, Bronx, NY 10462 (P.S. /M.S. 194)
Brooklyn – 71 Sullivan Street, Brooklyn, NY 11231 (P.S. 15)
Manhattan – 215 W 114th Street, New York, NY 10026 (I.S. 88)
Queens – 4602 47th Avenue, Woodside, NY 11377 (M.S. 125)
Staten Island – 80 Willowbrook Road, Staten Island, NY 10302 (I.S. 51)
Services provided at the center include but are not limited to:
Department of Social Services will assist with enrollment in SNAP benefits, cash assistance, and public health insurance, and help connect people with emergency food assistance. English and Spanish speakers will be available to assist with enrollment.
Housing Preservation and Development will be providing information about resources to homeowners and advise tenants how to proceed with getting an inspection if there was a lot of damage and they believe they cannot return.
Department for the Aging will assist in case management and senior employment.
Mayor's Office of Immigrant Affairs will assist with language and immigrant issues.
Small Business Services will assist small business owners who were impacted by the storm.
The New York City's Comptroller has funding to alleviate certain water or loss damages. Please download form here.
Referrals and information for pump out assistance for residents who still have standing water in their homes.
Department of Buildings will be able to answer questions from the public related to damaged structures, conducting repairs or renovations, and to provide guidance regarding the filing of construction projects with DOB.
Department of Health and Mental Hygiene will provide mental health counseling.
American Red Cross in Greater New York will assist in disaster relief management — including referrals, distribution of emergency supplies, and applying for assistance — and mental health counseling.
Also, Mayor Bill de Blasio signed an executive order on Tuesday waiving fees for repairs done on buildings damaged by the severe flooding last week.
The fees for this type of work on buildings would normally cost between $100 to $1,200, according to the mayor. These include but not limited to all Dept Of Building Permitting fees,
He also announced a number of other resources for people affected by the flooding from last week such as an extended hotel shelter program for homeowners and renters put out by the storm and free city water pumping services for people still needing to pump water from their homes.
Also, the city is working with the Red Cross to provide debit cards of up to $515 per household to provide basics for people who need immediate cash assistance.
Congresswoman Alexandria Ocasio-Cortez sent out a message for the residents of New York's 14th District, expressing her condolences to New York City residents who lost their lives due to Hurricane Ida. She also demonstrated her sadness for the devastation the heavy rain brought to the district and New York City as a whole. Along with the email, Representative Ocasio-Cortez shared important information with residents. The first resource is intended to disaster survivors.
The City of New York has developed a list of resources for those who were affected by this historic storm that you can find here. This comprehensive list of resources includes information about the service centers, mental health resources, and assistance for food, housing, finances, businesses, and more.
Download the free Notify NYC mobile app for iPhone or Android here. This is the best way to receive up-to-date alerts about the status of mass transit, weather damage, vaccination sites, and more.
If you have flood insurance, report your loss immediately to your insurance agent or carrier. Be sure to ask them about advance payments. If you need help finding your insurance agent or carrier, call the National Flood Insurance Program (NFIP) at 877-336-2627. You can file claims here.
Policyholders with three-year Group Flood Insurance policies can call the NFIP Direct at 800-638-6620. Select your language and then choose option 2 for the Special Direct Facility.
If you are able to safely return to your home, before you discard anything, take as many photos and videos as possible of your flood damaged home and personal property, including floodwater lines on the outside of the structure. For appliances and electronics, take a photograph of the make, model and serial number.
If you intend to file a water damage or loss claim with the city, make sure to file your claim in person or by registered or certified mail within 90 days. You can find the form here. Other claims can be filed here.
FEMA has updated their Individual Assistance Program and Policy Guide to be more flexible and accessible for marginalized folks, who historically struggle the most when recovering from climate disasters. You can find the updated guide here.
Learn more about starting your recovery with the National Flood Insurance Program at FEMA.gov.
Be patient. Recovery will take many months or more. Individuals who experienced damage and power loss should use extreme caution during the recovery phase. If you have insurance, start documenting your damage and reporting your loss immediately to your agent.
              The other resource includes safety information on post-storm hazards, which states the following:

·  Use a generator safely. Never use a generator inside a home, basement, shed or garage even if doors and windows are open.

o   Keep generators outside and far away from your home. Windows, doors and vents could allow carbon monoxide to come indoors. Read both the label on your generator and the owner's manual and follow the instructions.

·  Avoid carbon monoxide poisoning. A generator, grill, camp stove or other gasoline, propane, natural gas or charcoal burning devices should never be used inside a home, garage, basement, crawlspace or any partially enclosed area. These should only be used outdoors and at least 20 feet away from windows.

·  Put your health and safety first. Be careful in areas with storm damage or flooding. If you evacuated, return only when officials say it is safe to do so. Areas without power may experience heat advisories, which can lead to illness or a threat to life.

·  Be aware of heat-related illnesses. Areas without power may experience heat advisories, which can lead to illness or a threat to life. Learn to recognize the signs of heat illness.

o   Stay hydrated by drinking plenty of non-alcoholic, non-caffeinated beverages such as water or juice. Keep your pets hydrated by providing plenty of fresh water for your pets and provide a shady area.

o   Check on family, friends, and neighbors. Visit adults at risk at least twice a day and closely watch them for signs of heat exhaustion or heat stroke.

·  Be careful when cleaning up. Wear protective clothing, including a long-sleeved shirt, long pants, work gloves and sturdy thick-soled shoes. Do not try to remove heavy debris by yourself. Use an appropriate mask if cleaning mold or other debris. People with asthma and other lung conditions and/or immunosuppressive disorders should not enter buildings with indoor water leaks or mold growth that can be seen or smelled. Children should not take part in disaster cleanup work. Mold removal and remediation can be found HERE.

·  Avoid downed power or utility lines. They may be live with deadly voltage. Stay far away and report them immediately to your power company.

·  Check on friends and family. If you are able, please check on your neighbors, friends, and family because some may need more help than others.
The office of Representative Ocasio-Cortez is also available to answer questions and provide any assistance. You can reach her office by sending a message here or by calling her office at 718-662-5970.
The Federal government under the administration of Joe Biden, Jr. announced on September 4th, also mobilized to help the State of New York, and ordered assistance to complement State, tribal, and local response efforts due to the emergency condition. The President authorized the Department of Homeland Security, Federal Emergency Management Agency (FEMA), to coordinate all disaster relief in the counties of the Bronx, Dutchess, Kings, Nassau, New York, Orange, Putnam, Queens, Richmond, Rockland, Suffolk, Sullivan, Ulster, and Westchester.
There are three ways to apply for assistance: 
Deanne Criswell, Administrator of the Federal Emergency Management Agency (FEMA), Department of Homeland Security, named Lai Sun Yee as the Federal Coordinating Officer for Federal recovery operations in the affected areas.
Finally, as we move into a period of recovery, we want to thank The Office of the Mayor,  NYS Comptroller, Queens Together, Representative Oasio-Cortez, and the Biden Administration for their efforts to help alleviate the suffering caused by the heavy rain, and their contributions to this article.