Helping Each Other During the Coronavirus Outbreak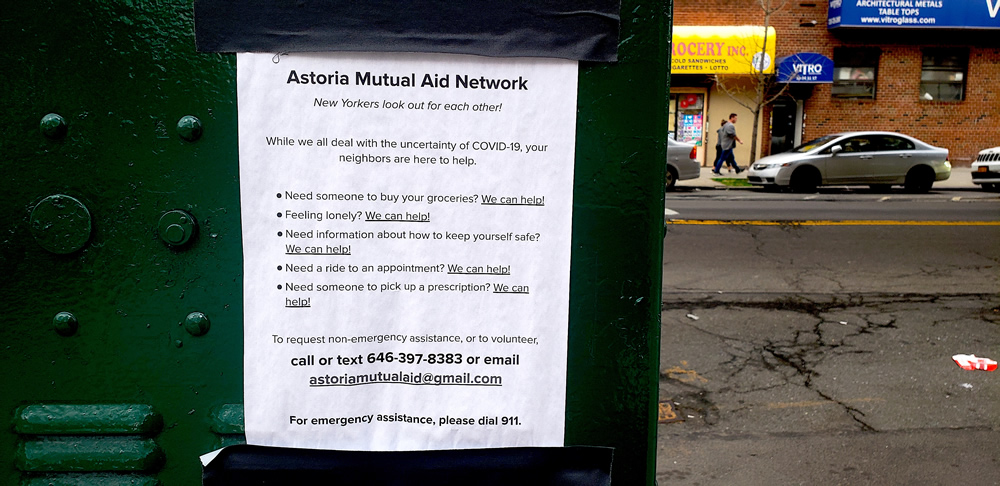 We at OANA urge you to continue to observe the advice being given by NYC Department of Health and the CDC during the coronavirus pandemic: to wash hands, stay indoors as much as possible and practice social distancing (remaining 6 feet apart from others) when you need to go outside for groceries or exercise.
If you are 60 or older and/or have underlying health conditions (COPD, diabetes, heart condition, etc.) or are immune-compromised, it is especially important to practice social distancing: you may be more likely to contract the coronavirus and the effects are likely to be more severe. Coming into contact with people who are incubating the virus and may not have any symptoms might cause you to be infected.
Many supermarkets in our area are now offering Senior Shopping Hours: these are typically in the early morning and allow seniors to shop when the stores are less crowded. These hours may be updated so check with your local supermarket before you head out.
If you are unwell or are trying to stay home as much as possible, neighbors in Astoria are coming together to help out. It's great to see New Yorkers' resilience and community spirit kicking in during this crisis. One such initiative is The Astoria Mutual Aid Network, a group of volunteers group set up to assist the elderly, sick and vulnerable. The network was founded by locals Ross and Maryam Mudrik and the plan is to also provide advice on staying safe and rides for those who have urgent appointments. Volunteers looking to join the group or those in need of assistance can contact Maryam and Ross Mudrick at 646-397-8383 or email astoriamutualaid@gmail.com.
Block associations are also stepping up: for instance, the 27th St Block Association has asked anyone on the block who needs assistance of any kind to leave a comment on their Facebook page so they can be connected with someone who can reach out. And if you know of any other block associations who are reaching out to help others, please let us know.
OANA may also be able with information about resources and services that may be available to you: please don't hesitate to reach out. Email us at info@oana-ny.org
For many, food insecurity is exacerbating the issues being caused by the coronavirus. But resources are available that can help:
For school-age children, "grab and go" meals can be picked up at New York City schools: check the DOE website for the most current information.
Check out information on food pantries in your area.
Senior centers are currently closed for programming and are providing meals for either grab-and-go or direct delivery. Please call your local senior center to ask about meals and timing.
A partnership has been formed with Fresh Direct in an initiative called "Operation 5-Borough Food Drive". Queens will receive 400 boxes free of charge each day filled with food to help sustain people, which will be distributed by Queens community-based-organizations (CBOs). The initiative, which started on March 24, is currently set to run for four weeks. The boxes will be distributed to community-based-organizations' constituents including seniors, low-income families and vulnerable members of the community.
The organization LIC Relief is partnering with local restaurants to provide free nutritional meals on weekdays for students and families impacted by the school closures as well as any person in need or unable to secure a daily meal. Meals will be available from 12:00pm – 2:00 pm. Look for the LIC RELIEF table just inside the restaurant and pick up a meal. LIC Relief will also be delivering a minimum of 250 meals per day in the Queensbridge Housing area in partnership with Center of Hope International.
Governor Cuomo has announced relief measures for mortgage holders in New York State. Unemployment insurance payments from New York State are available for those who lost their jobs suddenly. Gig workers will now also be eligible for unemployment benefits.
How can you as an individual help out your fellow New Yorkers during this national emergency? There are several things you can do.
Call a friend to check up and (If necessary) cheer them up. Offer to drop off groceries if they are self-isolating.
Donate your unused MetroCard to be passed on to an essential worker who needs to commute.
Make an appointment to give blood If you are eligible: with the cancelation of blood drives, there is a desperate shortage of blood in New York City. Your donation could save more than one life.
If you have recovered from COVID-19 and had a positive test BEFORE March 7, you can contact Mount Sinai Hospital to help save another New Yorker by donating plasma.
Donate to a food pantry in your area or to an organization like City Harvest.
The group Queens Feed Hospitals is partnering with local restaurants and staff at Elmhurst Hospital, Mt. Sinai Queens, and New York Presbyterian (Weil Cornell): you can donate to give a meal to a health care worker on the front lines of the pandemic.
Order takeout from a favorite restaurant if they are doing delivery: if you order via an app like Seamless you can request the meal be left at your doorstep or in the lobby. Be sure to tip well and leave a good review!
Many local businesses have had to close temporarily but you may still be able to order gift cards from their websites to be redeemed when the business reopens—it will give the business some much-needed revenue in the meantime.
We will do a post on resources for small businesses shortly. Please stay safe, keep washing your hands, and practice social distancing!