Greenspace Live Performance Event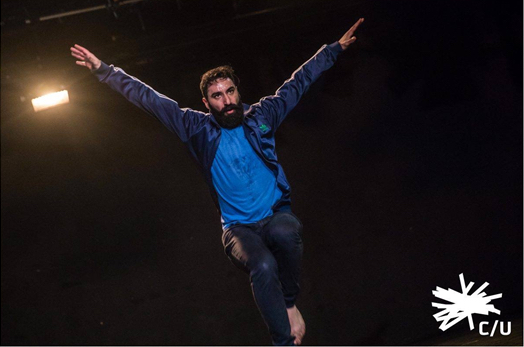 Live performances return to Green Space. Kicking off this special evening is the Take Root series with an excerpt from Valerie Green/Dance Entropy's "HOME" project, culminating a residency with visiting choreographer Bassam Abou Diab from Lebanon. Green Space will also be featuring Diab's solo work "Eternal," and a post-performance Q/A. In addition to the performance, the evening will include live Lebanese Music with Richard Khuzami on Percussion and Maurice Chedid on Oud, Pre & Post Show.
The event at Green Space will take place on September 24 & 25, at 8 pm. Tickets at the Door will be sold for $20 and Advance Pre-Sale are being sold for $17. The Green Space building is located at 37-24 24th St. #211 Long Island City, NY.
For more information, please click HERE.
Please Note: Mayor Bill De Blasio's Executive Order requires masks indoors and proof of at least one dose of a coronavirus vaccine for entry to any Green Space event.
"HOME" is an international collaboration with choreographers from Sweden, India, Burkina Faso, Colombia and Lebanon. Each artist examines the concept of home from their own unique perspective, drawing upon the significance of this idea from their home country, as well as factors including culture, upbringing, economics, politics, and personal identity. Five Choreographers are invited to NYC in 5 phases to work with the dancers in 10-day intensives at Green Space. Currently in Phase 5, Dance Entropy is working with Bassam Abou Diab on this idea of Home. Abou Diab states, "My view of 'home' as an artist coming to the United States is linked to accepting religious, ethnic and cultural differences to generate a feeling of safety and belonging. Home is acceptance, safety, security, and privacy. It is the space in which I feel I can be free, natural and present; the place in which I entrust my secrets and my details. It is the place that gives me the feeling of being an integral part of, the place that I feel comfortable in despite my racial, gender and social differences." During the performance, Bassam Abou Diab will perform the solo Eternal, a dance show that raises questions about the role of the dancing body in facing the despotic political regimes in the Arab countries and the transformations it went through in order to become a rebellious political movement that can face oppression and torture using music and dance.
Abou Diab Master Class At Green Space/Virtual Hybrid on September 21, 6-8pm
This workshop focuses on several rituals used in Middle Eastern events, prayers, funerals, and burials. It also focuses on the use of rituals in movements and the transformations of symbols into a theatrical dance technique, creating a common language of signs as kinetic memory. The workshop is divided into three parts: a vocal and physical warm up, practicing a series of movements (rituals), and combining physical and musical rhythms.
For more information please click HERE.
Bassam Abou Diab is a theater graduate from the Lebanese University and a folklore and contemporary dance artist. He has been dancing with Omar Rajeh (Maqamat) for several years. He performed in Mushrooms and Fig Leaves, Hibr, That Part Of Heaven and Watadour. He was also part of the intensive dance training program Takween in 2010, 2011, and 2017 where he worked with choreographers such as Marcel Leemann, Emilyn Claid, Thierry Smith, Hooman Sharifi, Benoit Lachamre, Marco Cantalupo, Gilles Jobin, Kristina De Chatelle, and Damien Jalet to name a few. He has choreographed and performed the "Not Connected", "Under the Flesh", "Of What I Remember", and "Incontro". He directed and choreographed "Phalastinian KLarma", a performance for the national Academy of Rome at the Ravello Festival in Italy. In addition to his theatrical work, Bassam is currently touring his creation, "Under the Flesh".
ABOUT VALERIE GREEN/DANCE ENTROPY
Founded in 1998, Valerie Green/Dance Entropy believes in humanizing movement, both in Ms. Green's critically acclaimed choreographic work and the company's mission to plant creative seeds in communities across the world. Intersecting mortal and transcendent, sensual and sophisticated, visceral and self-aware, VG/DE invites the artist, the audience —the human—into a compelling, physical experience. Based out of its home studio, Green Space in Queens, NY, VG/DE combines performance and specialized outreach programs to inspire communities in cultural institutions throughout the world. As a professional nonprofit dance company, the communities we engage with have included at risk youth, adolescents, the chronically ill, trauma survivors, immigrants, senior citizens and aspiring/professional dancers.
ABOUT DANCE ENTROPY / GREEN SPACE
Dance Entropy Inc. created its company home, Green Space, in Long Island City in 2005. Housed in a former silk factory with magnificent views overlooking Manhattan, the lofty 2000 square foot space offers an affordable venue for the creation and practice of dance. Green Space and Dance Entropy are committed to accessibility, diversity, education, and collaboration, providing dance artists and their workspace to grow in New York City through monthly performance platforms, classes and rehearsal space.
DIRECTIONS
By Subway: N, W, or the 7 to Queensboro Plaza, the first stop outside Manhattan. Take the North pedestrian bridge to the street. Look to your right, you will see Crescent St., turn right on Crescent, and walk to 38th Ave. Turn left on 38th Ave. Walk one block to 24th street. Green Space is in the red brick, four-story building. (Approximately a ten-minute walk.)
SPONSORS FOR DANCE ENTROPY / GREEN SPACE Dance Entropy /
Green Space is supported, in part, by public funds from the NYC Department of Cultural Affairs in partnership with the City Council; NYC Council Member Jimmy Van Bramer; The New York State Council on the Arts with the support of Governor Andrew Cuomo and the New York State Legislature; Dance/NYC's New York City Dance Rehearsal Space Subsidy Program, made possible by The Andrew W. Mellon Foundation; The Mertz Gilmore Foundation; NYC & Company, The New York Community Trust NYC COVID-19 Response and Impact Fund, The Nora Roberts Foundation, The Laura B. Vogler Foundation, A. Kerson, Leavitt & Sehati, Attorneys.
Photo Credit: Bassam Abou Diab