Coronavirus Updates and Resources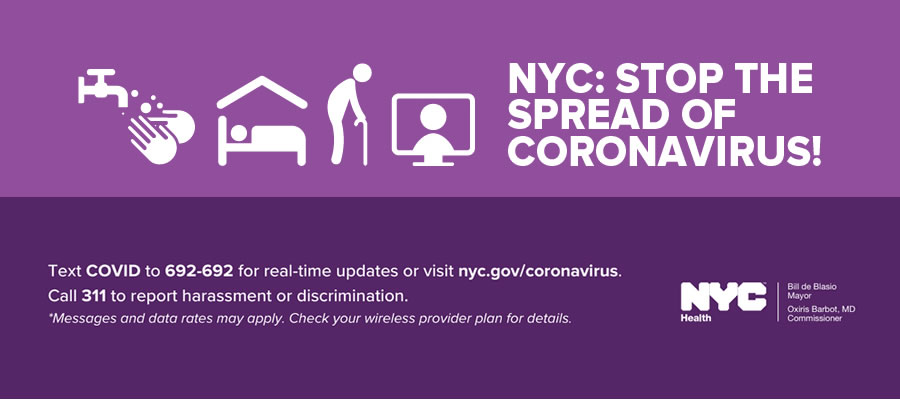 As the situation in New York City regarding the coronavirus (COVID-19) outbreak is changing rapidly, we urge our friends and neighbors to follow the advice being given by the City on staying safe, practicing good hygiene, and helping to reduce the impact of the outbreak.
As of Friday, March 13, New York will cancel most public gatherings of 500 people or more. This includes all 41 Broadway theaters, which are closed till April 13. The ban includes parades, sports events, performances, races and rallies. Smaller gatherings will be restricted as of March 13: "Establishments with a capacity of 500 people or fewer, including concert venues, theaters, museums, department stores and religious institutions, are required to maintain an occupancy level at or below 50% of their legal capacity to ensure maximum social distancing."
Queens Public Library branches remain open with regular hours for now. However, the Library is suspending all programs, events, classes, community room requests, and workshops from Friday, March 13 through at least the end of the month. The QPL's COVID-19 (Coronavirus) Response and Update page has some useful information about steps that the Library is taking to make sure you can visit their branches safely or how you can access the library remotely if you prefer that option.
There are some helpful online resources where you can check the latest news from City agencies.
For the latest information on the coronavirus and best practice guidelines, we encourage you to visit the New York City Department of Health and Mental Hygiene (DOHMH's) website. If you have questions that are not answered on the website, please call 311. You can also text COVID to 692-692 for updates from DOHMH. The Centers for Disease Control (CDC's) Coronavirus page is another useful source of information.
New York Health and Hospitals has a new Patient and Visitor Policy – for instance, visitors will be screened prior to entering patient areas, and sick visitors will be asked to leave. Visitors are prohibited in adult Emergency Department (ED) patient areas. For ED patients requiring assistance, one visitor may be permitted. Only one visitor per pediatric patient is allowed in the pediatric ED, and only a parent or caregiver will be allowed.
For small businesses who wish to stay up to date on industry-specific information, please fill out this form.  For small business owners, there is updated guidance here  from New York City's Small Business Services. There is an emergency planning checklist for small businesses as well as the CDC's Business Planning Checklist for Pandemics
Check here for NYCHA updates on how NYCHA is responding to the outbreak and where residents can get more information.
We urge you to stay informed—this Is a rapidly changing situation and the advice currently being given by New York City agencies may be updated at short notice. COVID-19 is a new strain of the coronavirus family to which no one has any immunity and for which there is no vaccine at present. The general consensus is that most young and healthy people who contract COVID-19 will have only mild to moderate symptoms. However, they may unknowingly spread the virus (especially in the early stages before symptoms appear) to the elderly, immunocompromised and people with existing serious health conditions, who are at far great risk from COVID-19. Therefore, following the advice being given to practice good hygiene and avoid large gatherings and unnecessary travel will help all of us. If you know of any older neighbors who are self-isolating and staying homebound out of an abundance of caution, please ask if you can help by picking up groceries or prescriptions for them (these can be left at their door to avoid face-to-face contact).
The current precautions being recommended by New York City Department of Health and Mental Hygiene are:
Stay home if you are sick. Avoid close contact with people who are sick.
Cover your nose and mouth with a tissue or sleeve when sneezing or coughing — do not use your hands.
Wash your hands often with soap and water for at least 20 seconds, or use an alcohol-based hand sanitizer.
Do not touch your face with unwashed hands.
Do not shake hands. Instead, wave or elbow bump.
If you have family or friends who are elderly, have compromised immune systems or chronic respiratory or coronary issues, do not visit them if you feel sick. Stay home and keep your loved ones safe.
Consider telecommuting, biking or walking to work if possible.
Consider staggering working hours. For example, instead of 9 a.m. to 5 p.m., change some work hours to 10 a.m. to 6 p.m. or 8 a.m. to 4 p.m.
Clean and disinfect frequently touched objects and surfaces using a regular household cleaning spray or disinfecting wipes.
Get your flu shot. Although the flu shot will not protect you from COVID-19, it will help prevent the flu which has similar symptoms to this coronavirus.
We will keep you posted as the situation continues to develop. Stay safe!
Photo: Courtesy City of New York.