Applications Accepted June 1 For The NYS Emergency Rental Assistance Program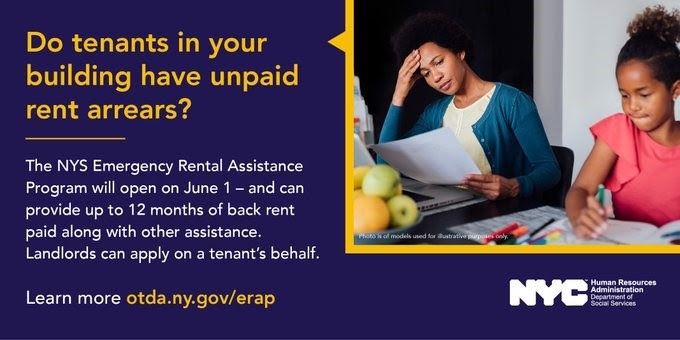 OANA has received the following from the NYC Department of Housing Preservation and Development.
Attention Property Owners:
The New York State Emergency Rental Assistance Program (ERAP) provides assistance to New York City households who are behind on their rent. Low- to moderate-income households can get up to 12 months of their back rent paid, three months of future rent, and other assistance.
Applications will be accepted starting June 1, 2021 at 9:00am.
Both tenants and landlords can apply – payments will be made to the landlord, and tenants will be notified of any payment made on their behalf.
During the first 30 days of the program, New York State is prioritizing households that meet certain criteria. After the first 30 days, applications for all eligible households will be processed on a first-come, first-served basis, as long as funds remain available. Individuals do not need to have a lawful immigration status to qualify. Interested tenants and landlords are encouraged to apply as soon as possible. 
For more information about how to apply, and to find out if you or your tenants qualify, visit otda.ny.gov/erap. There are also community-based organizations helping New Yorkers apply across the five boroughs, listed at nyc.gov/erap.
Help us get out the word about the program! Flyers in multiple languages and social media graphics are available on the NYS ERAP website. Whether it's the New Yorkers we serve or those you may know personally, we want all New Yorkers struggling with back rent to know about this important resource.