An End to Larger Truck Traffic on Astoria Boulevard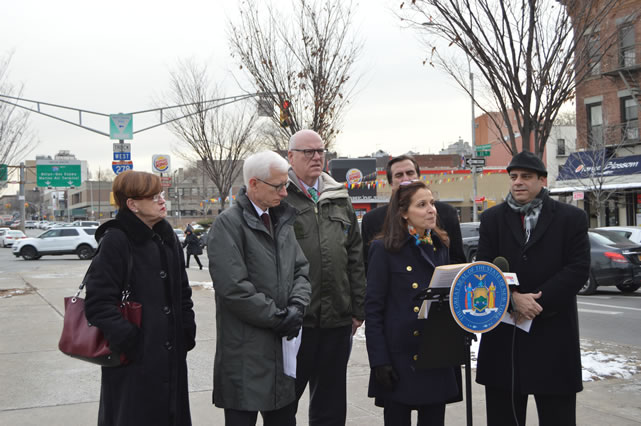 New York State Assemblymember  Aravella Simotas announced that by the end of this year, larger trucks will be permitted to remain on the Brooklyn Queens Expressway (BQE) and will no longer be detoured onto local streets in Astoria. (Note: many people think of the roadway from the RFK Triborough Bridge to the BQE Exit as part of the Grand Central. But it is actually part of the BQE Interstate Rt. 278). Simotas, together with Representative Joe Crowley, New York State Senator Michael Gianaris, and District 22 Councilmember Costa Constantinides, welcomed the news that will reduce noise, traffic congestion and truck fumes in our neighborhood.
Simotas, Constantinides, Gianaris and Crowley had sent a letter to the Department of Transportation (DOT) in May suggesting that lowering the BQE's road bed so that larger trucks could be accommodated would alleviate the current traffic situation, especially problematic on Astoria Boulevard.  The DOT began construction to lower the road bed in November and work is expected to be finished before the end of the year.
Aravella Simotas said in her press release, "A long horrible nightmare for the people who live, work, travel and raise their families in this Astoria neighborhood is finally ending. I can't think of a nicer gift to the community this holiday season and I thank Governor Andrew Cuomo and the state Department of Transportation for listening to our request, acknowledging the needless suffering of this community and getting this project done in record time."
In addition to adding to the already choked-up traffic in Astoria, the detouring of larger trucks from the BQE is a quality-of-life issue. District 22 Councilmember Costa Constantinides said that "reducing truck traffic on local roads will also decrease the pollution that is emitted into our air, causing our residents to develop respiratory issues like asthma. As we work toward a greener and more sustainable city, these small steps make a big difference."
Senator Gianaris said, "It's great to finally see our full vision for a truck-free Astoria Boulevard realized. When I passed the law over a decade ago allowing trucks to stay on the highway between the Triborough Bridge and the Brooklyn-Queens Expressway, the state still needed to create enough clearance so the biggest trucks could fit under the overpasses. With this fix now being implemented, Astorians can breathe easier that our air will be cleaner, traffic will be reduced and the unbearable noise and damaged streets to which we've grown accustomed will be lessened."
We look forward to a calmer, fresher and less congested Astoria Boulevard in 2018!
Press conference on opening BQE to trucks; photo credit Costa Constantinides via Flick/Creative Commons