Ahoy! NYC Ferry Service Launches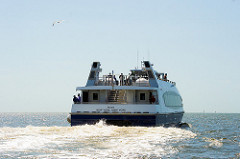 The merry month of May brought some extra joy to residents of the Rockaways as the new NYC Ferry service began connecting them to other boroughs. Astoria will welcome the new ferry service in August, and the new boats look amazing, with comfortable seating, wi-fi and a snazzy snack bar on board.
OANA President Richard Khuzami was among those who took part in the maiden voyage of the good ship Urban Journey, as you can see in this video of the boat ride, along with Old Astoria Residents Claudia Coger, OANA supporter and President of the Astoria Houses Residents Association, and Vanessa Hall-Jones, member of Community Board 1 and the Two Coves Community Garden.
Since the new ferry service launched, there have been complaints from Williamsburg residents about the loud and shrill new ferry horns used by the new boats. According to DNAInfo, Hornblower, who operate NYC Ferry, is installing new horns that face the rear of the boat and direct the sound over the water. We hope and expect for this situation to be rectified before ferry service begins from Hallets Cove in Astoria this August.
NYC Ferry boat – Photo credit, Dave Pappas Creative Studio, courtesy of NYC Ferry