3 Hiring Events this Week for Jobs at LaGuardia Airport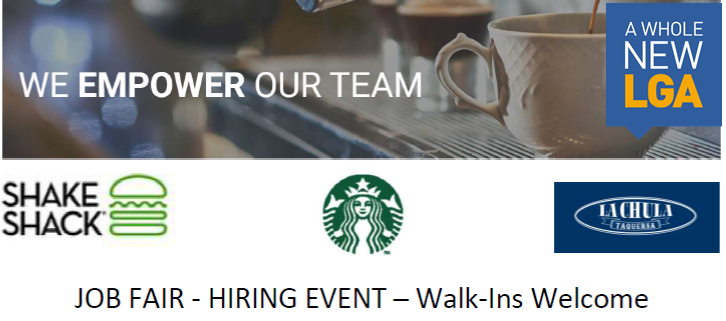 Job fairs for the new LaGuardia Airport. Take advantage of this great opportunity.
Walk-Ins Welcome
HMSHost will be conducting on the spot interviews for Baristas, Cooks, Crewmembers, Servers,
Wait Staff, Bartenders, Shift Supervisors, Restaurant Managers for our brand-new locations at
the new LaGuardia terminal within the LaGuardia Airport.
Details:
Date: Tuesday 12/11; Wednesday 12/12; Thursday 12/13
Time: 9a – 5p
Location: Marriott LaGuardia (Free Parking) Across from LaGuardia Airport –
102 Ditmars Boulevard, East Elmhurst, NY 11369
Requirements:
Schedule your interview by submitting your resume to:lgahmshostrecruiting@gmail.com
Must be 18 years old or older
Excellent customer service skills
Food service experience preferred
Two forms of identification
HMSHost is a leading restaurateur and pays qualified employees top compensation, provides
health insurance, tuition reimbursement, and other great benefits.
Event preparation: Please bring a resume, dress in business casual, and be prepared for a 30-
minute interview