Win one for Friends of Whitey Ford Field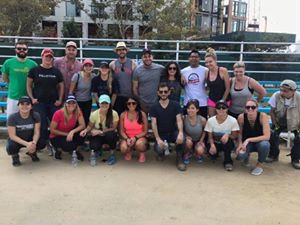 Congratulations to Friends of Whitey Ford Field on winning the "It's My Park Photo Contest" hosted by the Partnerships for Parks.  This comes after the organization entered the contest by submitting a photo of their September 17 Clean Up at the field. They received 548 votes. 40 volunteer park groups took part in the competition. Whitey Ford's granddaughter, Blair Clancy; her family, friends, and many of her classmates at New York University organized a very strong marketing campaign, in what became known as #WinOneForWhitey.  In addition, several local businesses as well as family members from around the world added their support. Votes came from as far away as Barcelona.
The winning Friends of Whitey Ford Field's photo will be displayed during a photo reel presentation at the next It's My Park Awards Reception.  They also were awarded an Apexel telephone cell phone lens kit!
Check out Whitey Field in Old Astoria on 26th Avenue and 2nd Street and congrats again on the award Friends of Whitey Ford Field!
Authors:Elizabeth Hodges and Neil Herdan
Photo credit NYC Parks Department