Weeknight Summer Fun in Astoria Park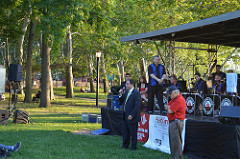 Almost time for Central Astoria LDC's amazing Waterfront Concert and Movies on the Waterfront series in Astoria Park!
The Waterfront Concerts will take place on Thursday evenings this summer at 7.30 pm.
July 13, Strawberry Fields-The Ultimate Beatles Tribute Band;
July 20 New York Bee Gees
July 27  STREETFIGHTER! (Rolling Stones Tribute band)
August 3 Fleure Seule
August 10 D. B. Rielly and Band
August 17 A Decade of Soul.
The movies will take place on Monday nights, all at 8.30 pm:
July 24 Finding Dory
July 31 The Breakfast Club
August 7 School of Rock
August 14 Toy Story 3
August 21 Titanic
Bring a chair or a blanket, and see you on the Great Lawn!
CALDC waterfront concert; photo credit Costa Constantanides