The BioBus Comes to Hallets Cove
Astoria students of all ages will have the opportunity to study marine life and science in Hallets Cove this summer. The NYC EDC's BioBus Mobile Research Lab will be parked near the Astoria Houses Community Center to offer free educational programs.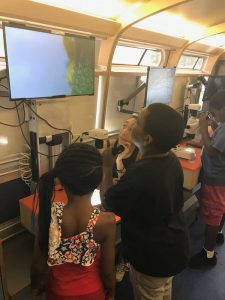 The schedule for the BioBus is Mondays from 12 noon to 5 pm and Tuesdays from 10 am to 3 pm through August 13. The location is the cul-de-sac at the Astoria Houses which fronts 4-03 Astoria Blvd.
Students will be trained by scientists to use microscopes and to conduct their own research projects in the Cove. The East River is a tidal estuary and the marine ecology training provided by the BioBus could help students towards a science career.
"It's amazing in these times to teach young people about the water, air and what it means to their health. Young people need to know more about this planet and what it means to their life",' Claudia Coger, President of Astoria Houses Tenant Association, told QNS.com. '"I appreciate Councilmember [Costa] Constantinides for moving forward with programs that support young people with education in our community. This is an enormous opportunity that may inspire the next generation of scientists or environmental advocates".'
Photos courtesy of Terence Cullen