The 2021 Tribeca Film Festival Screenings in Astoria Park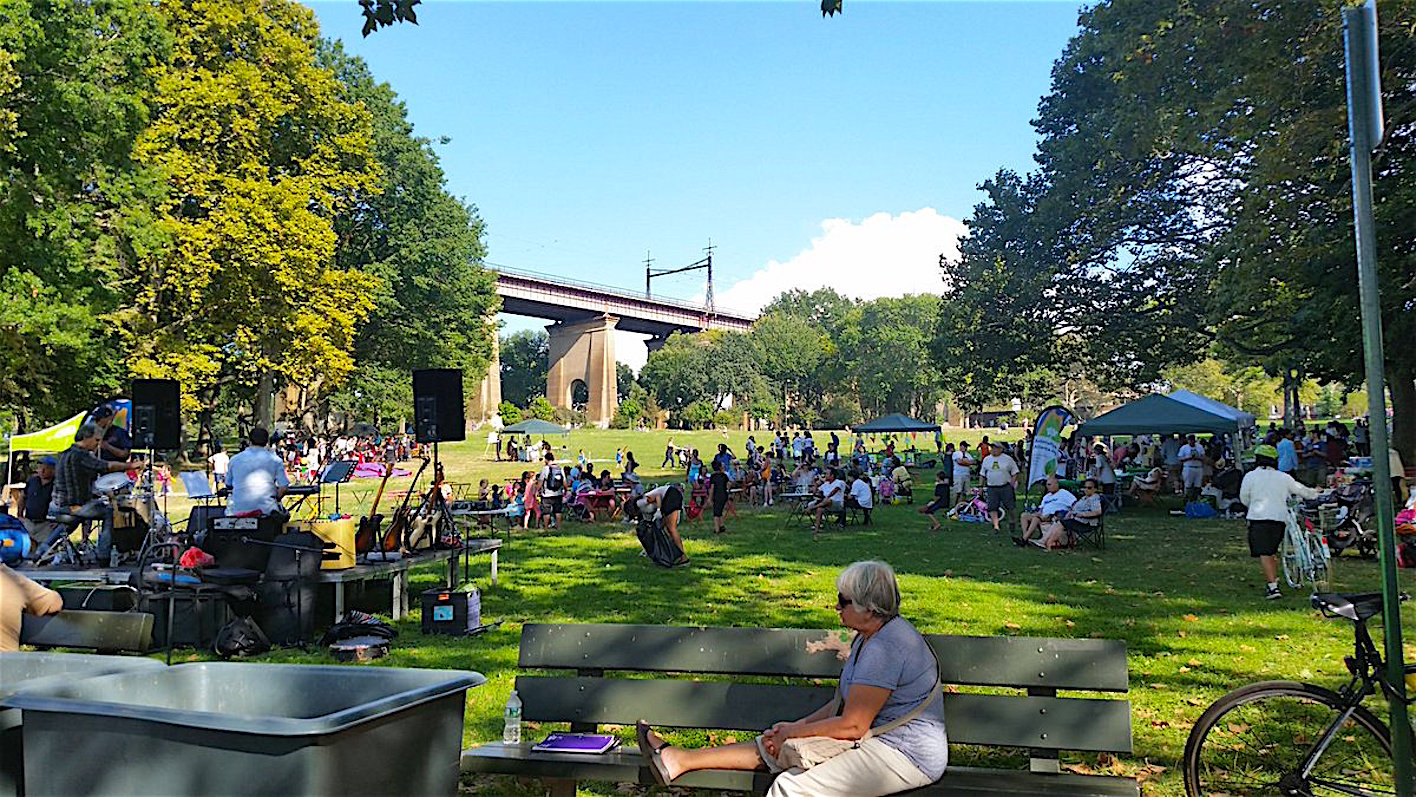 The 2021 Tribeca Film Festival will be bringing its diverse selection of screenings to our neighborhood in Astoria Park.
The prestigious annual film festival will run for 12 days, from June 9th to June 20th. For the first time in its history, the festival will be coming to all five New York City boroughs. The 12-day festival will also be the first large event in North America, since the start of the pandemic, to be held in-person. In total, the Tribeca Film Festival is expected to host 100,000 viewers.
"Ushering in live entertainment as the first major North American film festival to be held in person."
Reminiscent of summertime block parties, the in-person screenings of new premieres, family-friendly films, Black classic retrospectives, and more are designed for people to safely gather picnic-style and experience great movies with family and friends.
The Great Lawn in Astoria Park, with its view of the Hell Gate, will probably be the most memorable venue of the festival! Astoria is taking its rightful place as a Cultural Center in NYC! We want to especially thank the DeNiro family. Not only have they designated Astoria as a host for the film festival, but they have also adapted Astoria as a second home, investing in our community with the creation of a major Movie Production facility on 19th Avenue. From Raphael DeNiro: "We're excited to be bringing this 750k square foot, 11 sound stage studio, to Astoria, opening 2023".
"The Tribeca Film Festival was born out of our mission to bring people together in the aftermath of 9/11. We're still doing it. And as New York emerges from the shadow of Covid-19, it seems just right to bring people together again in-person for our 20th-anniversary festival."

— Robert De Niro, Co-Founder of Tribeca Festival
"As our numbers continue to decline and more and more New Yorkers get vaccinated, we can begin to turn the page on COVID and look forward to getting back to a new normal," Governor Cuomo said. "Events, venues and businesses all across New York State are reimaging how they operate for a post-pandemic world, and the Tribeca Festival is no exception. This year the Tribeca Festival will offer new, exciting ways for New Yorkers and visitors to screen the year's best films and enjoy the many events and experiences that will take place, culminating with a fully vaccinated audience at 100% capacity at the historic Radio City Music Hall. This is a huge step forward in our state and our nation's reopening that will let the rest of the world know New York is back and better than ever."
"Tribeca is a community of the most resilient and talented storytellers on the planet. In 20 years, our community of creators and partners have become a family. This summer we are excited to reunite as
Tribeca becomes a centerpiece of live entertainment in neighborhoods across New York City."
– Jane Rosenthal, Co-Founder and CEO of Tribeca Enterprises and Tribeca Festival
"Tribeca Film Festival is insightful, important, and urgent. A revelation" said, award-winning filmmaker Kathryn Bigelow.
For its 20th anniversary and in partnership with some of the most iconic outdoor sites, festival-goers will safely gather together once again to celebrate with their fellow New Yorkers as we welcome back the entertainment community.
In addition to the venues, Tribeca will host community screenings in all New York City boroughs including the Bronx and Queens using traveling 40-foot state-of-the-art LED cinemas, the first mobile HD screens in the country.
Images below are renderings of select locations.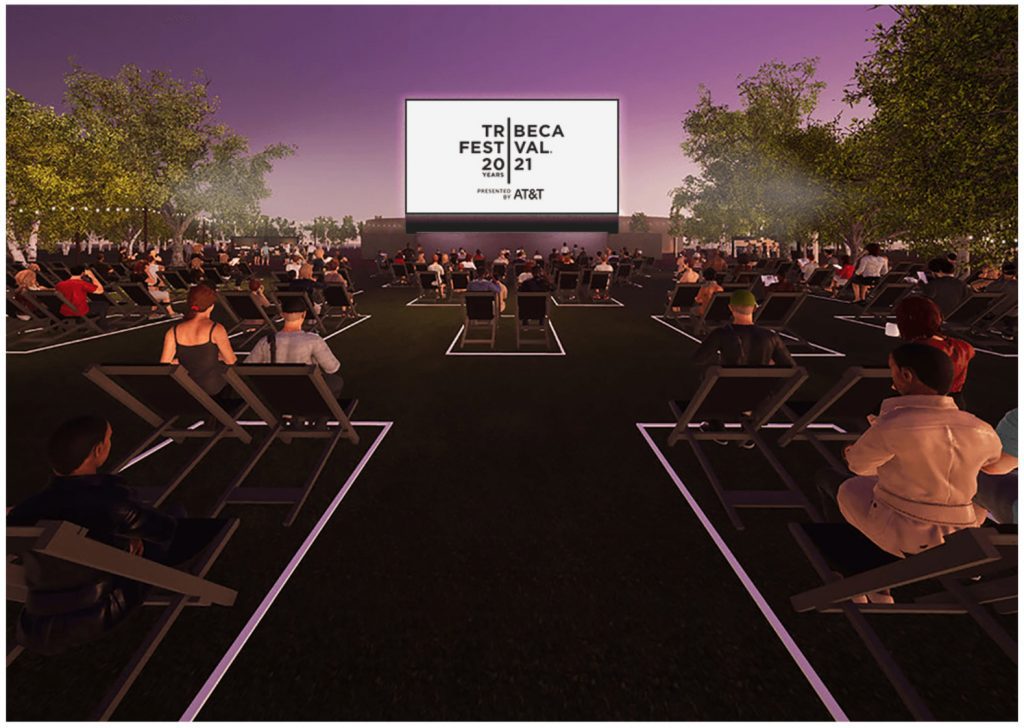 The Battery
Photo Credit: Overland Entertainment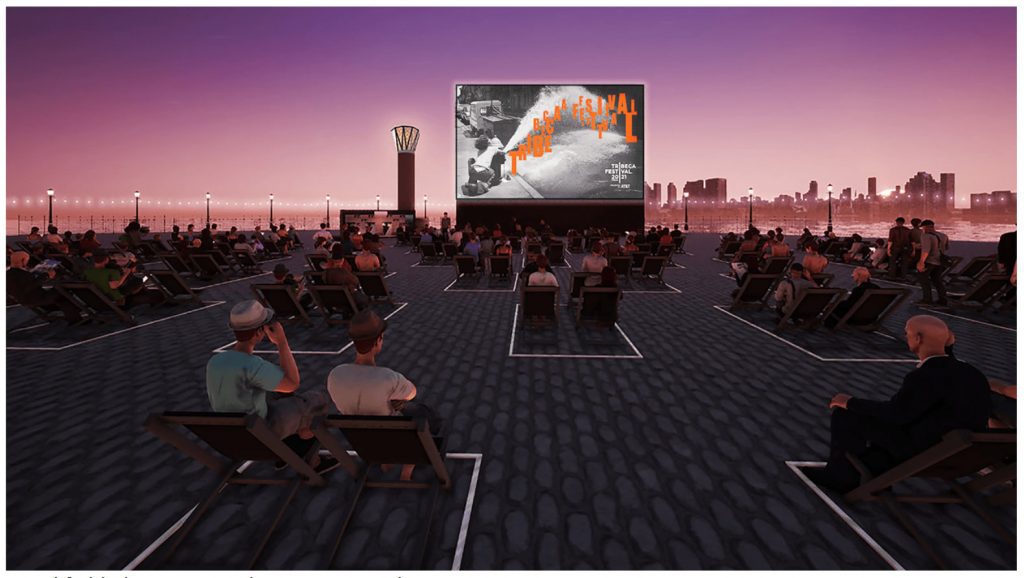 Brookfield Place New York in Battery Park City
Photo Credit: Overland Entertainment
"After the 9/11 attacks, the Tribeca Film Festival helped set the stage for New York City's incredible comeback – and helped spur a new golden age for film and TV production across the five boroughs," said Michael R. Bloomberg, founder of Bloomberg LP and Bloomberg Philanthropies and 108th mayor of NewYork City. "This year the festival is once again shining a spotlight on our city's resilience and creativity, and just as we've done from the start, Bloomberg is glad to support this great tradition, which will once again help lift our city's spirit."
"It's only natural that The Tribeca Film Festival will be among those leading the return of arts and culture, as it has consistently enriched the lives of New Yorkers since its inception, by celebrating and showcasing our city," said Jessica Lappin, President of the Alliance for Downtown New York. "This year's festival at The Battery is just the beginning, as Lower Manhattan continues to develop as a new center of gravity for the arts."
Since its founding twenty years ago to help revitalize lower Manhattan through the arts, Tribeca has created opportunities and championed emerging storytellers. The tradition will continue this year with diverse programming, immersive exhibitions, games, films, concerts and a commemoration of the Juneteenth holiday, which will fall on Closing Night for the first time.
"The story of the Tribeca Film Festival, like New York's, is a story of resiliency and reinvention. The festival was born from the idea that we can mourn and heal through the power of storytelling and coming together as a community. Today, as we emerge from the worst of a horrific pandemic, it's events like the Tribeca Film Festival that will give New Yorkers hope for a better and brighter future in the days ahead,"added Scott Rechler, CEO and Chairman of RXR Realty and Chair of the Regional Plan Association.
"The Battery Park City Authority is excited at the opportunity to partner with The Tribeca Film Festival for their 2021 Festival," said George J. Tsunis, Chairman of Battery Park City Authority.
Tribeca Festival is working in concert with the New York State Department of Health to ensure all public gatherings are in full compliance with COVID-19 safety protocols.
About the Tribeca Festival
The Tribeca Festival, presented by AT&T, brings artists and diverse audiences together to celebrate storytelling in all its forms, including film, TV, VR, gaming, music, and online work. With strong roots in independent film, Tribeca is a platform for creative expression and immersive entertainment. Tribeca champions emerging and established voices; discovers award-winning filmmakers and creators; curate innovative experiences; and introduces new technology and ideas through premieres, exhibitions, talks, and live performances.
The Festival was founded by Robert De Niro, Jane Rosenthal, and Craig Hatkoff in 2001 to spur the economic and cultural revitalization of lower Manhattan following the attacks on the World Trade Center.
Tribeca will celebrate its 20th year June 9 – 20, 2021. www.tribecafilm.com/festival
About the 2021 Tribeca Festival Partners
The 2021 Tribeca Festival is presented by AT&T and with the support of our corporate partners: Alfred P.Sloan Foundation, Bloomberg Philanthropies, CHANEL, City National Bank, CNN Films, Diageo, DoorDash, FreshDirect, Hudson Yards, Indeed, Montefiore, NYC Mayor's Office of Media and Entertainment, P&G, PwC, Roku, Spring Studios New York.
In response to health safety regulations, the festival will take place at outdoor screening venues. Astoria Park is among 13 other city locations to host panels, live performances, and movie screenings. Currently, a large LED cinema screen is being installed at our beautiful waterfront setting ahead of the event. The Astoria Park schedule as follows:
Astoria Park, Queens
Saturday, June 19th – Selma, 2:30pm
Saturday, June 19th – Just Another Girl on the IRT, 5:30pm
Saturday, June 19th – Daughters of the Dust, 8:00pm
Sunday, June 20th – James and the Giant Peach, 3:00pm *Disney+
Sunday, June 20th – Love and Basketball, 5:00pm
For more information on other venues, and the films being presented, you can visit the Tribeca Film Festival's official website.
Photo: Great Lawn, Astoria Park, photo courtesy of Green Shores NYC