Social Distancing in Parks Saves Lives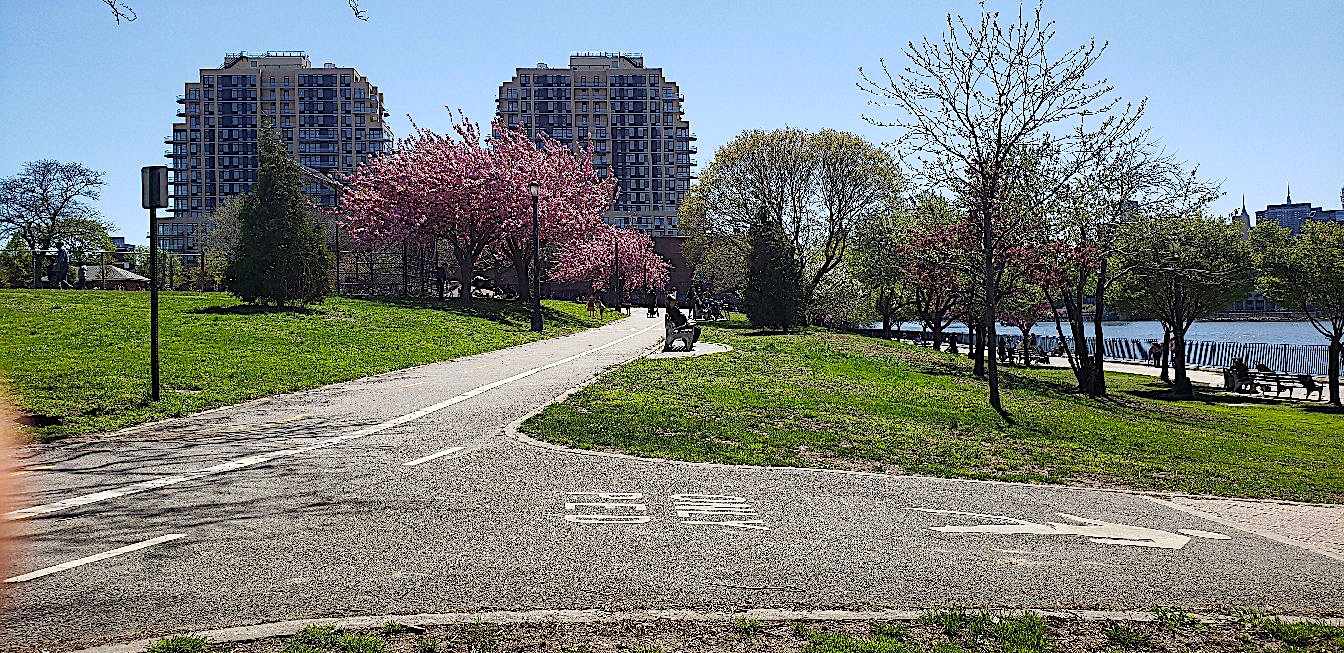 As the number of confirmed cases and deaths from COVID-19 (coronavirus) in New York City continues to rise, there was nevertheless a little encouraging news this: the rate of growth in the number of cases hospitalized appears to be slowing. If this trend continues, it would indicate that the stay-at-home order and closing of schools and non-essential businesses in New York state is beginning to "flatten the curve" of the spread of the virus. But we all need to do our part!
There were multiple reports last weekend of New York City parks' including those in Astoria,  being thronged with people who were not "social distancing"—i.e. keeping the recommended 6 feet apart from others at all times, not congregating in groups. and refraining from any group sports such as basketball or soccer. The citywide enforcement effort to encourage social distancing among parkgoers remains in place, and there will be monitoring by City agencies, including NYPD, OSE, the Sheriff's Office, DEP, DSNY, DOB, and FDNY. Council Member Costa Constantinides has called on the Parks Department to provide additional Parks Enforcement Patrol (PEP) officers around Astoria Park this weekend to enforce social distancing guidelines. Constantinides has asked for the extra supervision to disperse crowds after large crowds of people were seen congregating in the area last weekend, according to the Astoria Post.
"We saw far too many clusters of people at the Astoria Park running track last weekend when we should be exercising a safe distance from one another," Constantinides said.
Even if you feel perfectly healthy, you may be able to pass the virus on to others and put them at risk of severe illness. As all New Yorkers, apart from those who are essential workers, are spending most of our time at home, parks can provide a vital opportunity to get out in the fresh air and refresh our spirits. It would be a shame if the selfish actions of a small number of thoughtless individuals forced the City to close the parks completely. For all our sakes, please be considerate if you go to a local park. If you are walking or running on a path, use the outer edge to give people room to pass you in the other direction. Maintain a six-foot distance from other park users at all times—even if your dog wants to say hello to her canine friends! If you are using outdoor athletic equipment, remember it may not have been cleaned since others used it—wipe it down with alcohol and wear gloves. If you arrive at a park and it looks too packed for safe, turn around and return at another time.
All public gatherings in our parks are canceled through April 22, and NYC Parks is s not accepting, nor reviewing, event applications for any Special Events or Field and Court Permits at this time. All Shape Up NYC programs are canceled until further notice. All Recreation Centers are closed. Urban Park Ranger programs are canceled. All tournaments and sports practices are canceled. NYC's tennis season is delayed until further notice. Tennis courts are currently closed to tennis play, and tennis permit sales have been suspended for the 2020 season. If you have already purchased a tennis permit, it will be valid through 2021. You can find a full list of Parks service changes and updates on the NYC Parks Coronavirus page.
As always, we encourage you to visit the NYC Dept of Health website for the latest advice on the coronavirus pandemic. And remember, you can save lives by practicing social distancing in the parks!
Photo: Rainey Park, courtesy of Green Shores NYC