Shuttle Buses Replace the N and W trains for the Next Two Weekends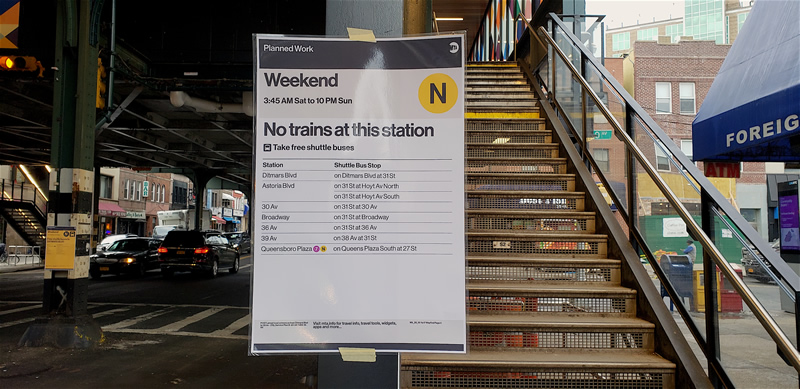 There will be no N/W service between Queensboro Plaza and Ditmars Blvd this weekend, February 16-17, and next weekend, February 23-24, for station improvements.
Important alert: during these weekends the traffic pattern will change on 31st Street between 31st Ave and 34th Ave to accommodate track replacement being performed concurrently with station improvements:
North Bound: Will run "Against the Normal Direction of Traffic", between 31st Ave & 34th Ave.
South Bound: Will be diverted at 31st Ave onto Crescent St, continue south on Crescent St to 34th Ave, turn left at 34 Ave to 31st St, turn right on 31st St and resume as normal.
There will be shuttle buses to replace the N/W train for these two weekends. Last year, some Astoria residents did find the weekend shuttle buses to be crowded at popular times of the day. With the changes and diversions in traffic added to the mix, it would be advisable to give yourself plenty of extra travel time.
More information here on the track improvements and the Astoria Blvd. station renovation.
Photo by Clare Doyle