Setting Up for Socrates Sculpture Park's New Season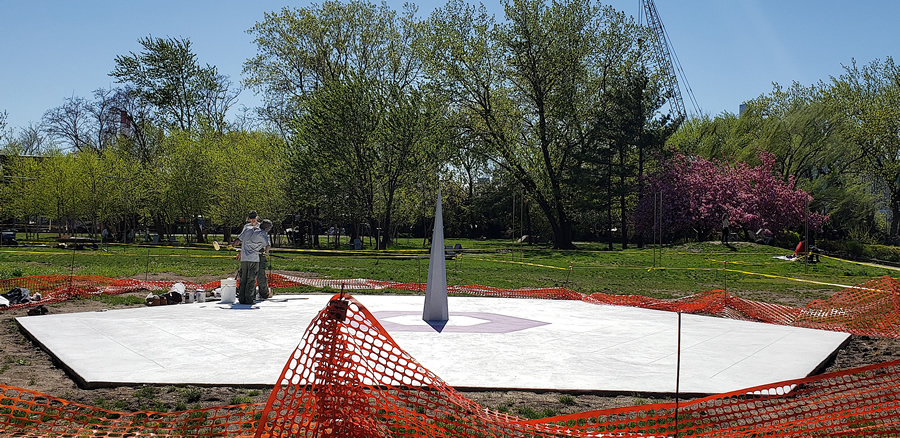 It's that time of the year when April showers bring May flowers and the new season of art, activities and events at Socrates Sculpture Park. Their new exhibition Chronos Cosmos: Deep Time, Open Space opens on May 5 and runs to September 2. Participating artists include Radcliffe Bailey, Beatriz Cortez, Alicja Kwade, Eduardo Navarro, Heidi Neilson, and Oscar Santillán with new commissions by Miya Ando, William Lamson, and (MDR) Maria D. Rapicavoli.
And whether you're interested in healthy living and activities, sculpture workshops, movie nights, music or theater, there's so much to do at Socrates in the upcoming season! Every Saturday from May 4 to October 26, head to the park for Roots Saturdays. Hellgate Farm and various local partners like The Connected Chef, Big Reuse, Smiling Hogshead Ranch, Queens Action Council (QuAC), and the Queens Beekeepers Guild will be holding drop-in workshops, food demos, and activities for kids and families from 12 noon to 3 pm. Hellgate Farm will also be selling their produce and small batch products like hot sauce, honey, and dried herbs.
The popular Saturday Sculpture Workshops return on Saturday May 18 with a program that will show you to create a forest creature puppet from materials found in the Park. The Saturday workshops runs until September 14, and take place in the Sticks area from 12 noon to 3 pm.  Join workshop leaders for programs like making Chinese zodiac shadow puppets, Andean crafts, playground design, floatables sculpture, plastic bag couture, weaving, creating personal power talismans, carnival mask-making, and encaustic painting.
There's no setting to beat a waterfront park when it comes to fitness activities! Fitness classes at Socrates are free and no rsvp is required. Vinyasa Yoga returns to Socrates on May 18 and runs till September 15. Classes are Saturdays from 9.30 to 10.30 am and from 11 am to 12 noon, and on Sundays from 10 to 11 am. Yoga classes are designed for all experience levels. Participants should wear comfortable clothing and bring a mat or a towel. Tai Chi classes will start on Sunday May 19 and run till Sunday September 15, from 11.30 am to 12.30 pm. Classes at Socrates are taught by certified instructors from the Taoist Tai Chi Society. All levels welcome. Wear comfortable clothing.
Hallets Cove Kayaking and Canoeing returns on select weekends from Memorial Day weekend through September 1, LIC Community Boathouse offers free kayaking and canoeing from Socrates' beach at Hallets Cove (enter at 31-10 Vernon Blvd), weather permitting. Participants will sign up on first come, first served basis. No prior boating experience needed, equipment is provided. All ages (and well-behaved dogs) welcome, minors (under 18) must have a parent/guardian present. Participants are encouraged to visit licboathouse.org two hours prior to a scheduled paddle for updates and cancellations, especially during inclement weather or on the day after heavy rain.
Would you like to experience music and theater on the waterfront? Check out the upcoming performance programs, with the Metropolitan Opera Recital returning to Socrates on Monday June 17, and Hip Hop in the Park on Sunday July 17, presented by Ralph McDaniels, founder and host of Video Music Box and Hip Hop Coordinator at the Queens Library: a community-oriented day of DJs and emceeing, dance performances, art-making, and local legends. Jazz at Socrates  returns with three Thursday concerts, on June 13, July 11 and August 8, where you can enjoy mellow sounds and a cool breeze from the East River. And Astoria gets its own Shakespeare in the Park performances this summer, with Hip to Hip Theatre Co. presenting The Tragedy of King Richard III on Sunday August 3rd and A Midsummer's Night Dream on Sunday August 11.
We have several great summer outdoor movie programs in Astoria and LIC, but Socrates' Outdoor Cinema program sets itself apart by focusing on foreign films, paired with food vendor offerings from the appropriate cultures. Starting on July 3rd and running through August 21, the films this summer will include La Ciénaga (Argentina), Cielo (Canada/Chile) and March of the Penguins (France).
And mark your calendars for special events like the Queens Green Day Festival on June 6 and the Summer Solstice Celebration on June 21. Like everything else at Socrates, the festivals are free. So much to do this season—see you at the Park!
Photo: Artists working on an installation for Chronos Cosmos.