NYPD to crack down on 'block-the-box'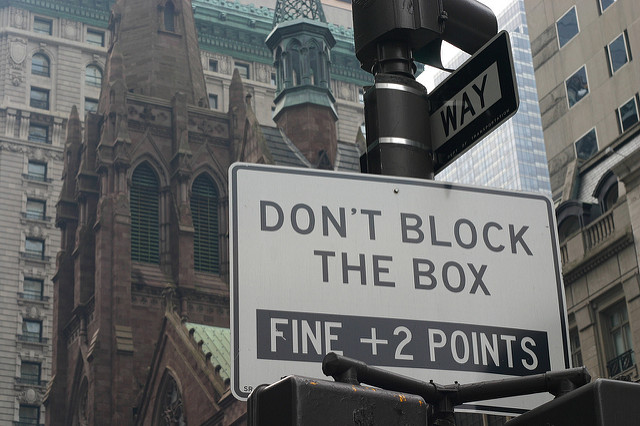 NYPD to crack down on 'block-the-box' , New Commercial Loading restrictions in Jackson Heights
BE AWARE
Drivers who "block the box" at intersections could get a ticket for holding up traffic.
Cops will be handing out tickets to drivers who pull too far into the crosswalk at 50 busy intersections across all five boroughs as part of Mayor de Blasio's effort to keep traffic moving.
"This is a time tested treatment," Transportation Commissioner Polly Trottenberg said at Broadway and Broome St., where crews put in new markings on the intersection. "We used to do this in the city. We're bringing it back with some real enforcement vigor.'
The NYPD is hiring 50 officers on block-the-box violations at the major intersections. A ticket could carry a $115 fine and put points on a driver's license.
De Blasio's congestion busting plan will also include delivery restrictions on two major commercial streets in Brooklyn and Queens this month.
The Department of Transportation on March 19 will start to implement new loading restrictions on commercial corridors throughout the rest of the month in the two outer boroughs, and in a zone in Midtown Manhattan starting April 2, agency officials said.
The rush hour delivery restrictions will be in place on Flatbush Ave. from Tillary St. to Grand Army Plaza in Brooklyn and Roosevelt Ave. from 90th St. to Broadway in Queens.
In April, the city will create a zone in Midtown Manhattan, from Sixth to Madison Aves., 45th to 50th Sts., to test out loading restrictions.
The city will only allow curbside loading on both sides of the corridors and in the Midtown zone for six months between 10 a.m. and 4 p.m., keeping the corridors clear during the morning and evening rush.
The city will allow "expeditious" pick ups and drop offs of people. Deliveries to off-street loading docks will still be allowed.