NYC Council Passes Climate Mobilization Bill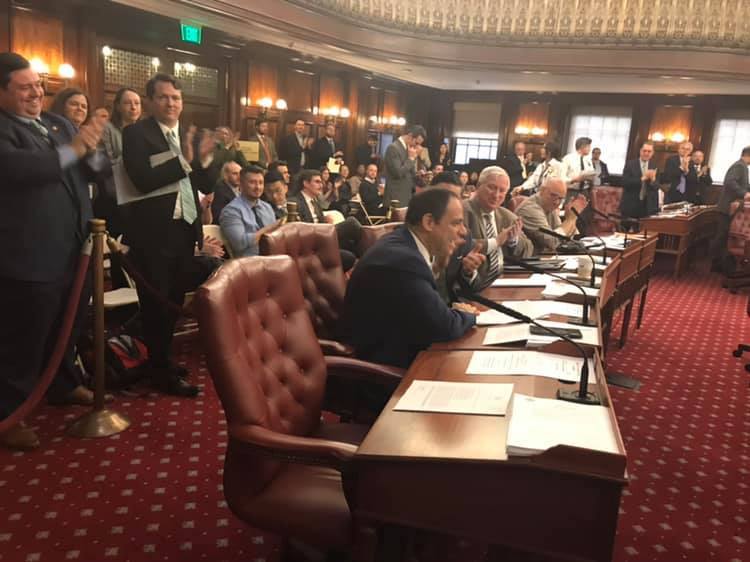 On April 18, the New York City Council passed a bill that requires buildings more than 25,000 square feet to reduce emissions 40 percent by the year 2030, and 80 percent by the year 2050. Other provisions of the Climate Mobilization Act include phasing out the city's non-renewable energy power plants and creating a renewable energy loan program.
CBS News reports that during the bill's voting session, there was a standing ovation for District 22 Council Member Costa Constantinides, who is the prime sponsor of the climate mobilization act.
Constantinides said in a press release:  "Just 2% of all New York City buildings account for a third of the Big Apple's carbon footprint. . . . Landlords have the freedom to figure out how to get their carbon emissions down, with plenty of grants and financing systems to ease the burden. We spent over two years working to make this the soundest legislation possible, one that balances its 40% reduction target by 2030 with real-life demands. And we'll create thousands of jobs each year in the process, both in retrofitting these 50,000 buildings as well as generating clean, renewable power."
Tony Gigantiello, president of North Queensview Homes, told Crain's New York that the co-op "has already spent $10 million on upgrades to conserve energy by more than 40% in the past decade. The new city law would disregard that and demand that the co-op spend more to cut emissions another 40% or face a fine." According to Constantinides, building owners can obtain special financing and compliance delays if there are technical or financial problems that make it harder to meet the goal of a 40% carbon emission reduction by 2024.
The requirement for large structures in New York to reduce their carbon emissions will likely attract the most attention from the media. But Constantinides also points out that legislation in the Climate Mobilization Act will
"make it easier to install smaller turbines, solar panels and natural plantings on our rooftops. . . . Stagnation is not the New York City way; we are about innovation and moving forward for the betterment of all. To betray our ideals is to ensure 100,000 people in the tri-state region will become climate refugees by 2100. We will condemn our historic coastal communities such as Coney Island, the Rockaways, and even my beloved Astoria to fall into the sea. And we will cease to function as the social, economic, and cultural powerhouse New York City has always been. I choose the bolder, harder way because I want to save the New Yorker before we become the next endangered species."
Photo: New City Council; photo credit Costa Constantinides