National Night Out Against Crime in Astoria Park on August 1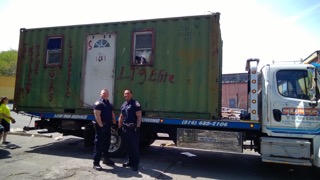 On Tuesday August 1 from 5 to 8 pm, come meet the officers from the NYPD 114th Precinct as they mingle with the neighborhood at the annual National Night Out Against Crime—held in our district once more in Astoria Park on the Great Lawn. Meet the Neighborhood Community Officers and talk about issues that concern you with them, get crime prevention tips, and check in with local organizations like the 114th Precinct Community Council, the Queens Library and Mount Sinai Hospital Queens.
As the Queens Gazette points out, this year's National Night Out will be held during a decline in crime in our precinct— "There's something for everybody – pony rides, food," said 114th Precinct Community Council President Ann Bruno. "It's all free, please come and bring your neighbor."
Hope to see you there!
9th Street/Astoria Cove cleanup – Photo credit NYPD 114th Precinct