Just Go See Jump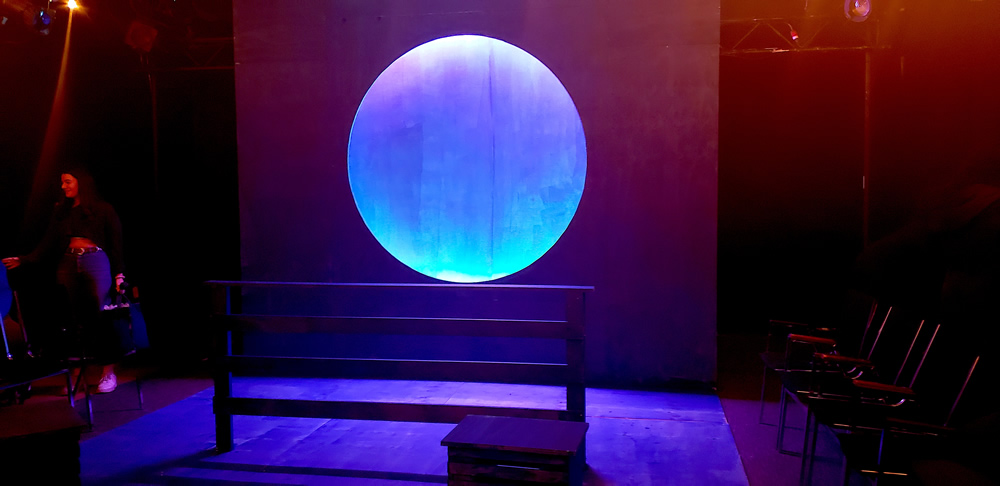 Jump, by Charly Evon Simpson, is currently having its New York premiere at The Astoria Performing Arts Center (APAC) in a pop-up venue at 28-21 Steinway St. The vacant storefront makes for a surprisingly intimate venue, while Devorah Kengmana's lighting design and the sound design by Jeanne Travis effectively set up the ambiance.
A year after the death of their mother, two sisters return to their childhood home to help clear the house that their father has decided to sell. As Fay (Kelechi Ezie) struggles to connect with her binge-drinking Dad (searingly portrayed by Dathan B. Williams) and her emotionally remote sister Judy (the restrained and quietly moving Natasha Hakata), the ritual of "discard, donate, keep" forms a background theme to the contrasting portraits in grief. We can't help hoping that the friendship blossoming between Fay and the mysterious but engaging Hopkins (Alex J. Gould), a man she encounters on a local bridge, will help her through a difficult time. But what we think we know about bereavement is challenged as Fay propels the play towards its cathartic climax in a tour-de-force of a performance. Jump illuminates the fragile but precious bonds of family and how loss is eventually processed.
Playwright Charly Evon Simpson is the 2019-20 recipient of the Paula Vogel Playwriting Award from the Vineyard Theatre, is co-recipient of the Dramatists Guild's Lanford Wilson Award, and was nominated for the Outer Critics Circle's John Glsssner Award. Her play Jump is the first recipient of the David Goldman Fund for New Plays and was also a semi-finalist for the Playwrights Realm Writing Fellowship. Director Arpita Mukherjee is the Artistic Director and co-founder of Congressional Award winning Hypokrit Theatre Company and the Festival Chair for Tamasha for South Asian performing artists.
Jump runs through February 23, with performances on Fridays, Saturdays and Sundays, and a talkback with the playwright after the 3 pm show on Saturday, February 22nd. You should jump at the chance to get tickets here!
Photo: Set for Jump; photo credit Clare Doyle