International Cultural Fest: A Stunning Success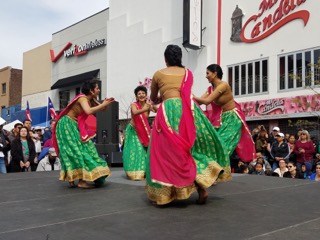 Central Astoria Local Development Coalition's International Cultural Fest on April 23rd St was a big hit with the crowds who flocked to Steinway Street to join in the community celebration that presented the cultures of many nations.
Amazing performances by the Japanese Folk Dance Institute of NY, Ballet Los Pampas with songs and dance of Argentina, Gimagua playing the music of Colombia, Ajna Dance Company's traditional dances of India, Ramzi Dance-The Dance Art of The Middle East, the Wianek Polish Folk Dance Company, the American Bolero Dance Company and their flamenco, and the NY Tibetan Services Center, who presented folk music and dances of Tibet. The Little Orchestra Society provided culture, composing, and music-making for the whole family.
According to Central Astoria LDC, NYC Council Member Costa Constantinides, who attended the event, said that "he was proud to fund the International Cultural Fest, in the heart of the Steinway retail strip. He noted that the multicultural performances mirrored Astoria's own makeup of a multitude of nationalities united in their appreciation of each other's cultures and diversity.
For more information on the International Cultural Fest, and all future events, please visit the Central Astoria LDC website or email them at info@centralastoria.nyc or call 1-718-728-7820.
Photo Courtesy of Central Astoria LDC