Immigration Advocacy Services 30th Anniversary Gala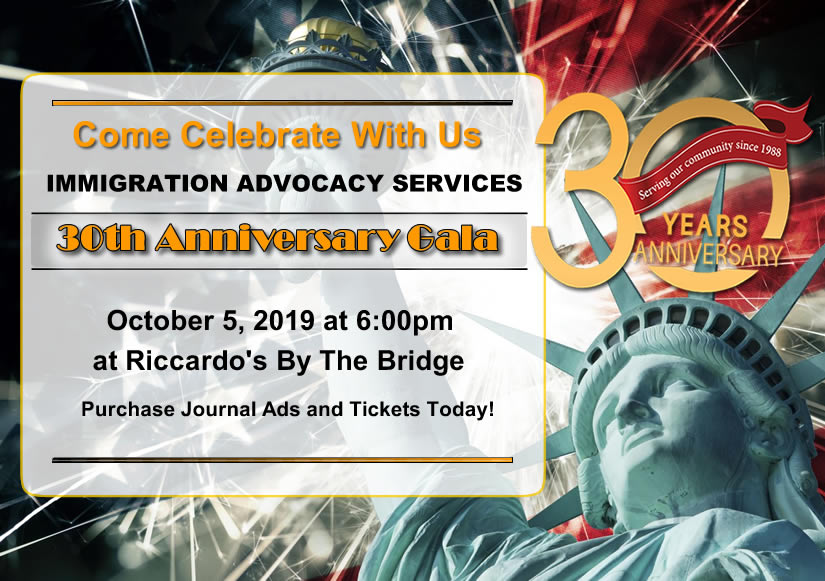 The Immigration Advocacy Services will be holding its 30th Anniversary Gala at Riccardo's By The Bridge on October 5th, 2019. The event will include a Dinner Dance, Live Band and Full Bar all through the night. You can find out more about the event and purchase tickets here.
The Honorees will include Shyconia Noten Burden, Carlos Alberto Betancourt, along with local legislators, Congressperson Carolyn Maloney, State Assemblymember Aravella Simotas and Queens Boro President Melinda Katz.
OANA recognizes Immigration Advocacy Services as one of the most effective and respected organizations in the community, especially important in today's environment.
We look forward to joining them as they celebrate their 30 year milestone and hope to see many of you there!
About: Immigration Advocacy Services
Immigration Advocacy Services is a Not For profit Immigration Help/Outreach Center that has worked with the USCIS for the last 31 years to help Citizens and Immigrants navigate the Immigration system of our country. We have represented and helped about 2,500 people from approximately 125 countries every year to Naturalize, get Permanent Residency (commonly known as a Green Card) and Petition family members.We have clients all over these United States but generally help constituents from the Greater NYCMetro area.
With a staff of 3 Attorneys and 12 Paralegals and counselors led by 2 full time administrators, we are truly blessed and heartened to have helped approximately 50,000 individuals became an integral and contributing part of American society.