Funding for the Queens Library Astoria Branch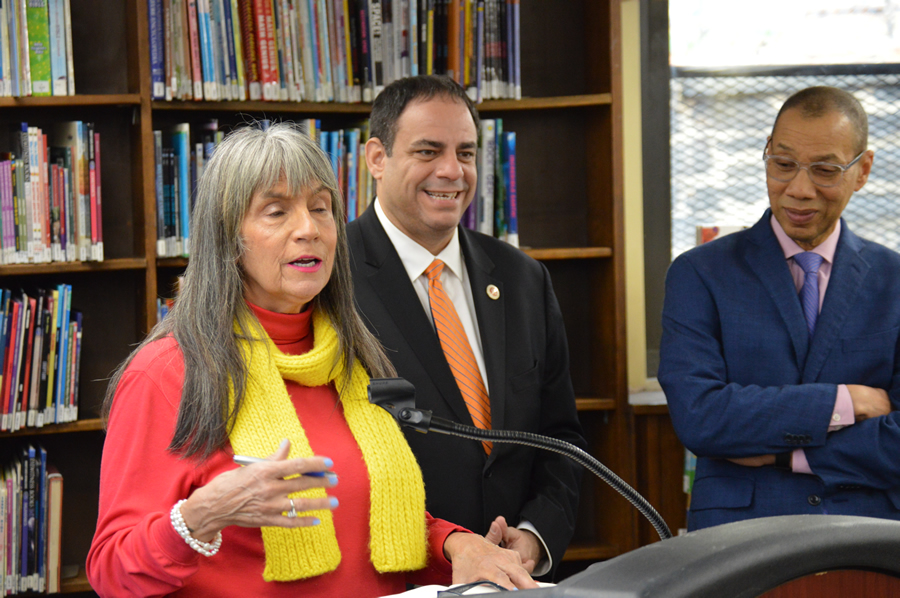 District 22 Council Member Costa Constantinides joined with Queens Library President and CEO Dennis Walcott earlier this month to announce funding in the Fiscal Year 2019 budget that will re-envision the Astoria branch of the library as a 21st-century learning facility for Western Queens. Costa, in partnership with NYC Council Speaker Corey Johnson, allocated $3,300,00 in funding in this year's budget.
The Astoria branch of the library is one of four remaining Carnegie Libraries in Queens.  Industrialist Andrew Carnegie gave away a large part of his fortune to fund over 2,500 Carnegie libraries, built between 1883 and 1929, in the United States and other countries. The New York City Carnegie branch libraries were designed to be independent structures (not just a floor in another building) that were centrally located in their neighborhoods and that would become important parts of their communities. The Astoria Carnegie Library was designed by the architects Tuthill & Higgins (best known for also designing Carnegie Hall), and is located on the northeast corner of the intersection of 14th Street, 28th Avenue and Astoria Boulevard. The land was purchased from Henrietta Stivers in 1903 for $11,000.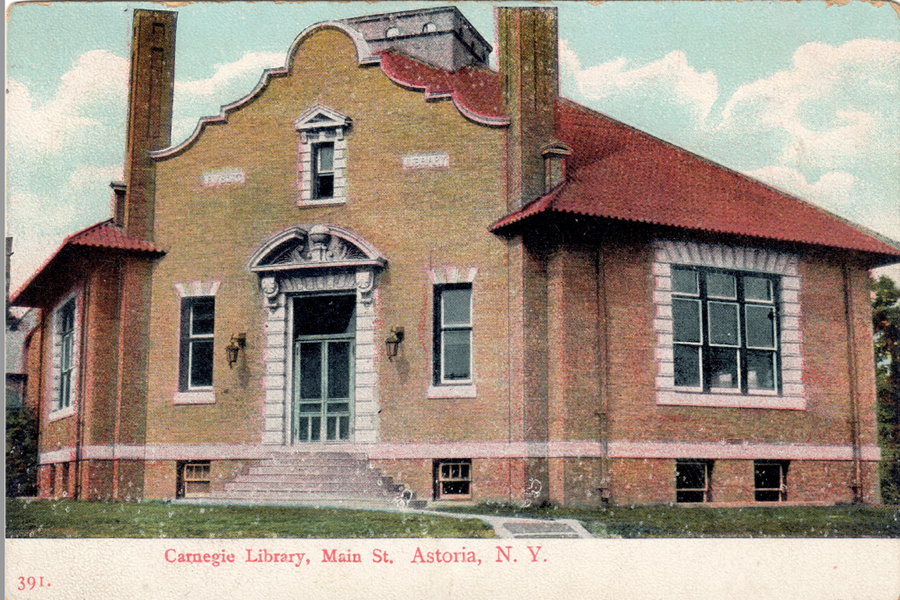 The branch opened in 1904. Originally built in the ornate Flemish Revival style, the library was extensively renovated in the 1930s through the Federal Civil Works Administration. A new stairway and main entrance were constructed, as well as a basement entrance for children. (Additional renovations took place in the 1960s, including a red brick projecting bay entrance with glass and aluminum doors). In 1938, five Works Progress Administration/Federal Art Project murals by artist Max Spivak were installed in the Children's Reading Room. The murals were created as part of an artistic program for the space, which also included sculptures of circus performers by a friend of Spivak's, Eugenie Gershoy. Sadly all the sculptures have been lost, according to the Historic Districts Commission. The murals were damaged over time: however, two of the murals, "Grand Finale of an Opera" and "Circus," were restored through the Municipal Art Society's Adopt-A-Mural program and were rededicated at the library branch in 2003.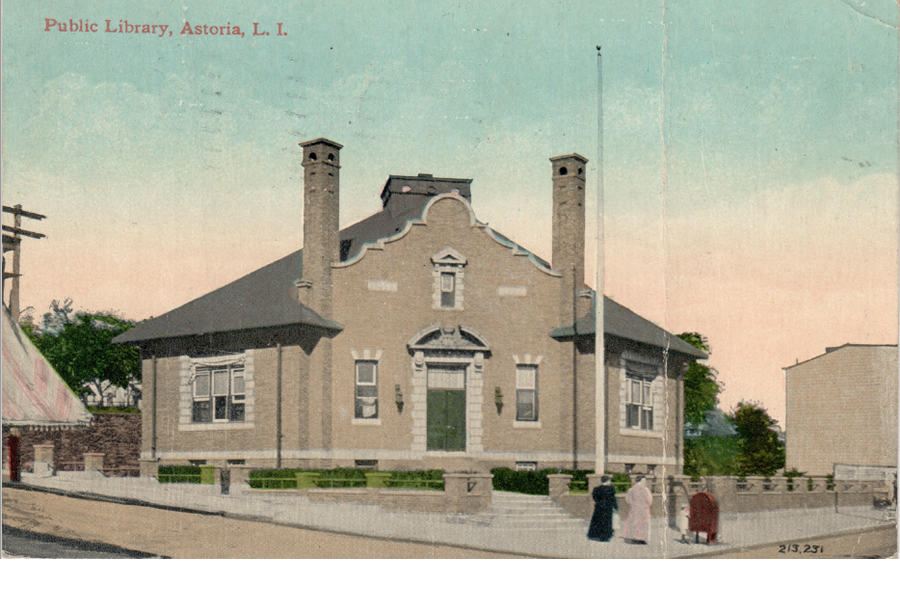 "Libraries are a beacon of learning, whether you're five or 95, which is why keeping them up to date is so crucial," Council Member Constantinides told attendees at the event announcing the funding. "Making the Astoria Library better than it has ever been will encapsulate the broader investment we've made into the Hallets Cove Peninsula. This will be a state-of-the-art, ADA-accessible facility where residents can grow, learn, and empower themselves. I want to thank Speaker Johnson for his support to fully fund this work, as well as the Queens Library team for its partnership."
"A library is so much more than a place to check out a book. Libraries provide technology services for people of all ages and afterschool programming for students to keep their learning up outside of the classroom, and they serve as community spaces where neighborhoods can come together," said Council Speaker Corey Johnson. "All New Yorkers deserve access to state-of-the-art libraries. As more and more people move to Astoria, supporting this branch becomes all the more important. The Council is proud to provide this funding that will help update facilities, expand programming, and make the library ADA-accessible so everyone can utilize this space. This is going to be an awesome library."
"This funding helps Queens Library meet its mission to transform lives and build strong communities with libraries that are safe, inviting and accessible to all," said Queens Library President and CEO Dennis Walcott. "Since he has been in office, Council Member Constantinides has demonstrated time and again his strong support for our libraries and this $3.3 million investment is yet another illustration of his commitment. We are grateful also to NYC City Council Speaker Corey Johnson for supporting the council member's priorities for his district."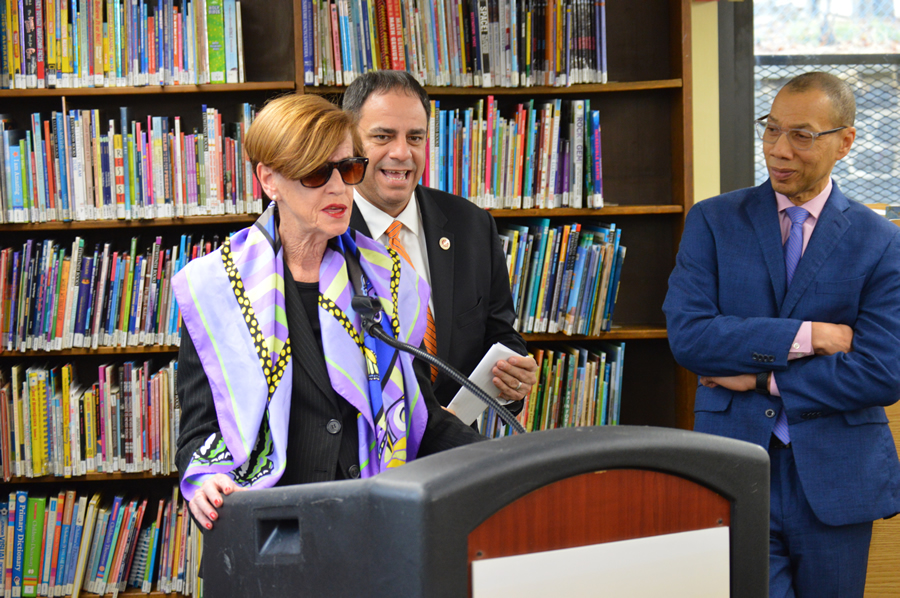 Constantinides and Walcott were joined at the library by Marie Torniali, Chair of Community Board 1, Queens; Bishop Taylor, Co-Founder and CEO of Urban Upbound; Claudia Coger, President of the Astoria Houses Resident Association; Anju Rupchandani and Andre Stith of Zone 126; and Dominique Perrot of the Old Astoria Neighborhood Association.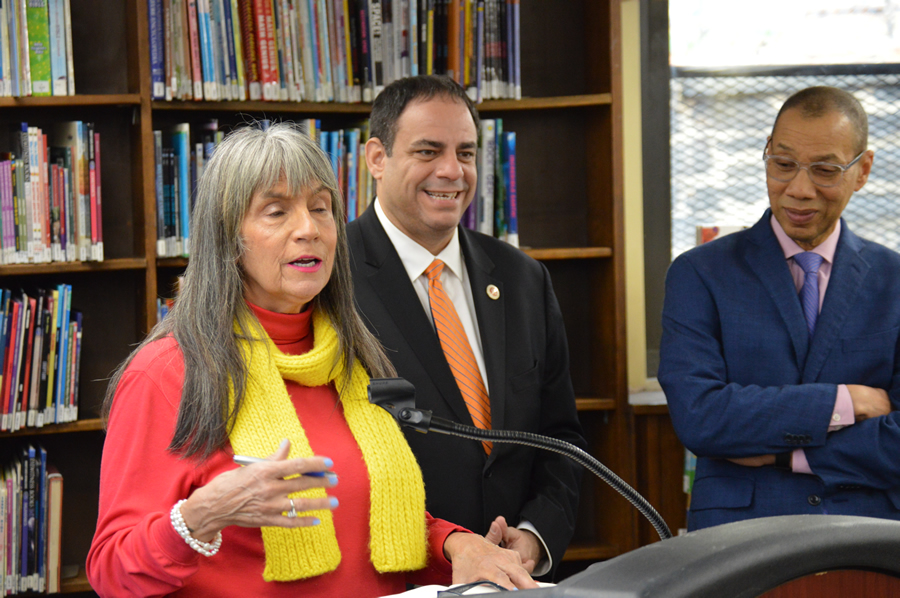 Dominique grew up across from the Astoria Library Branch and she shared the positive impact this library has had on her life. As an amateur historian, she appreciates the building and looks forward to the upcoming improvements and renovations.  "For all of us who live here, it is truly an important part of our past and our future," Dominique told OANA. "I learned to read English here. I worked here during high school and loved it. I now teach classes here (knitting and crochet.) I visit this library many times a week."
"From instilling the value and joy of reading in children to helping adults develop job skills, libraries are an essential resource that should be accessible to all," Assembly Member Aravella Simotas said.
"The Astoria Library has been a charming fixture in our community for so many years; a cornerstone of this neighborhood," said Marie Torniali, Chair of Community Board 1, Queens. "The community is grateful to Council Member Constantinides and Speaker Corey Johnson for investing more than 3 million dollars to make it a state of the art of facility enabling more people than ever to avail themselves of all the Library has to offer."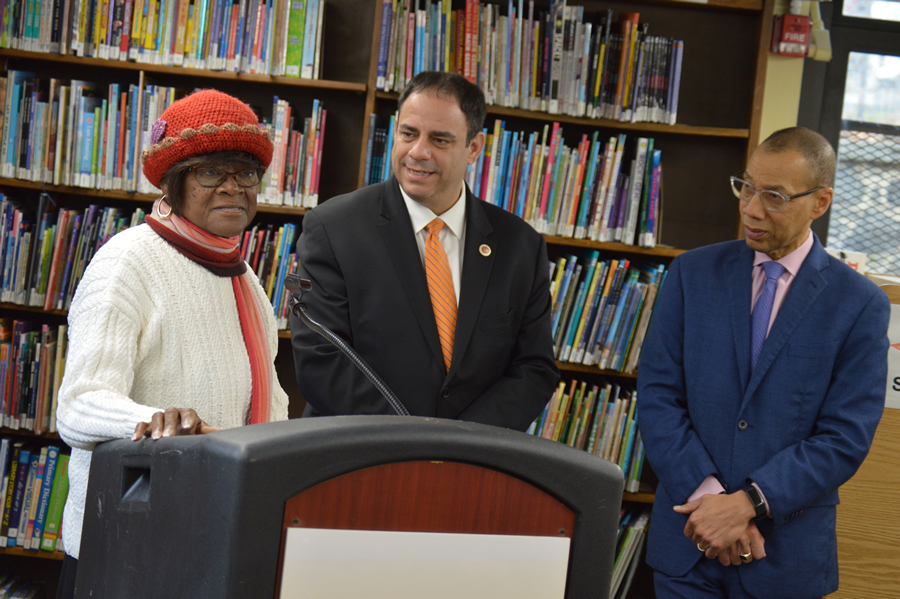 A renovated Astoria Library will include a new children's reading area, elevators, electronic drop-off equipment and other modern-day technology. The branch will also become ADA compliant. Support for the Astoria Library is part of a $25 million investment in the Hallets Cove Peninsula since 2014.