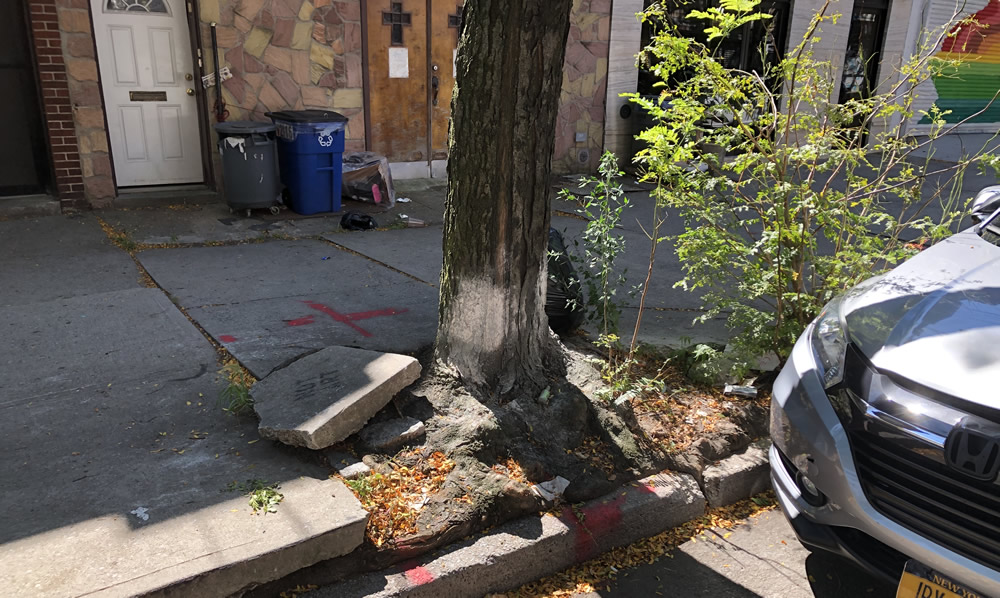 Trees & Sidewalks Program: Sidewalks are prioritized for repair through the Trees & Sidewalks program based on the severity of damage and availability of funding. NYC Parks' foresters inspect sites requested for repair and assign a priority rating on scale of 0-100-100 being the most severe damage. Due to limited funding, they must prioritize the highest rated sites each year. In addition, sidewalks are only qualified for inspection once every three years upon request.
Repairing the sidewalk through an independent contractor is often the quickest solution to repair a damaged sidewalk. If the constituent wishes to repair the sidewalk through an independent contractor, he/she may request a free sidewalk consultation with a Parks forester who can offer site-specific repair solutions for working around the City tree. The selected contractor should be on-site for the consultation so that all repair recommendations and guidelines are fully understood. The contractor must obtain the necessary permits from the Department of Transportation (DOT) and NYC Parks prior to any sidewalk work.
File a claim: If the constituent wishes to file a claim against the City of New York relative to repairs he/she performed to their sidewalk as a result of damage that they believe was caused by a City tree, he/she may do so by filing a claim with the New York City Comptroller's Office within 90 days of performing the repair.