OANA is pleased to co-sponsor a presentation by Equinor, the operator of the Beacon Wind 1 project.
We are reaching out to invite you to join an upcoming community meeting, to be held on Thursday, June 23rd from 6-8 pm at the Variety Boys & Girls Club of Queens. Learn more about how offshore wind will deliver clean energy to New York alongside our meeting co-hosts,Variety Boys & Girls Club of Queens,  Queens Together, and Urban Upbound.  
The event will be an opportunity to learn about Equinor's offshore wind projects serving New York, the process for federal and state permitting, meet the project team, share what is most important to you, and engage with experts on diverse offshore wind topics. The meeting will focus on Beacon Wind 1, which is projected to provide reliable, renewable power to more than a million New York City homes.
Date: Thursday, June 23, 2022
Time: 6:00 – 8:00 PM
Location: Variety Boys & Girls Club of Queens, 21-12 30th Road, Astoria, NY 11102
RSVP: Click here to register (Please register early as space is limited). There will also be a streaming option. The link to the live stream will be shared about 24 hours in advance to all registrants.
Habrá interpretación en español. 
We hope you will join us and we encourage you to share the event!
Best regards,
The Equinor Team
Beacon Wind is planned for an area of 128,000 acres in federal waters approximately 60 miles east of Montauk Point and 20 miles south of Nantucket. Beacon Wind will interconnect to the grid in Astoria. 
Beacon Wind is a 50-50 partnership between Equinor and bp, operated by Equinor, and is a key contributor to our strategic position in the U.S. Find out more at www.beaconwind.com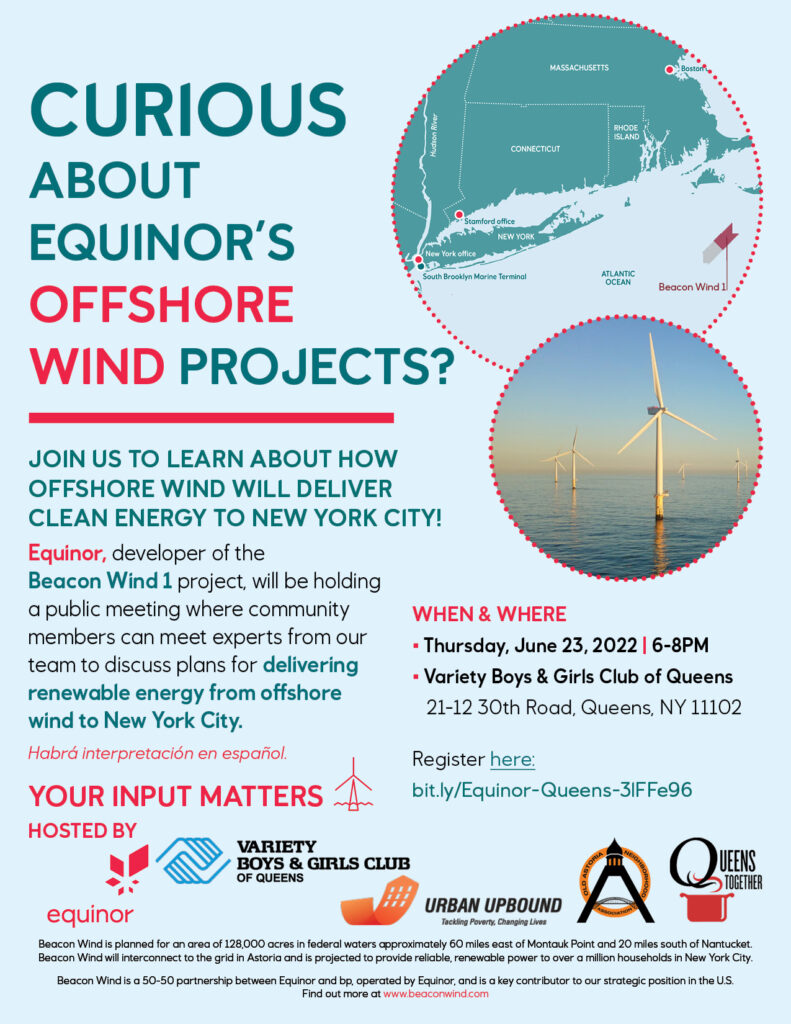 ---
Estimado miembro de la comunidad de Queens,
Nos comunicamos para invitarlo a nuestra reunion comunitaria en el Variety Boys & Girls Club, Queens en Jueves 23 de junio, de 6-8 pm. Obtenga más información sobre cómo la energía eólica marina proporcionará energía limpia a Nueva York junto con nuestros coanfitriones de la reunión, Old Astoria Neighborhood Association, Queens Together, y Urban Upbound.
El evento brinda la oportunidad de conocer los detalles del proyecto Beacon Wind y el proceso de permisos estatales y federales, conocer al equipo del proyecto, compartir lo que es más importante para usted, e interactuar con expertos en diversos temas. La reunión se enfocará en el proyecto Beacon Wind 1, cual proveerá energía renovable y confiable a más de un millón de hogares en la ciudad de Nueva York.
Fecha: Jueves, 23 de junio de 2022
Hora: 6:00 – 8:00 PM
Ubicación: Variety Boys & Girls Club of Queens 21-12 30th Road, Astoria, NY 11102
RSVP: Para registrarse haga clic aquí (Por favor regístrese temprano ya que el espacio es limitado). Tambien habrá una opción de streaming. El enlace a la transmisión en directo se compartirá con unas 24 horas de antelación a todos los solicitantes de registro.
Habrá interpretación en español.
¡Esperamos que nos acompañe y lo invitamos a compartir este evento!
Atentamente,
El equipo de Equinor
Beacon Wind está planificado para un área de 128,000 acres en aguas federales aproximadamente a 60 millas al este de Montauk Point y 20 millas al sur de Nantucket. Beacon Wind se interconectará a la red eléctrica en Astoria. 
Beacon Wind es una empresa conjunta 50-50 entre Equinor y bp, operada por Equinor, y es un contribuyente clave para nuestra posición estratégica en los EE. UU. Obtenga más información en www.beaconwind.com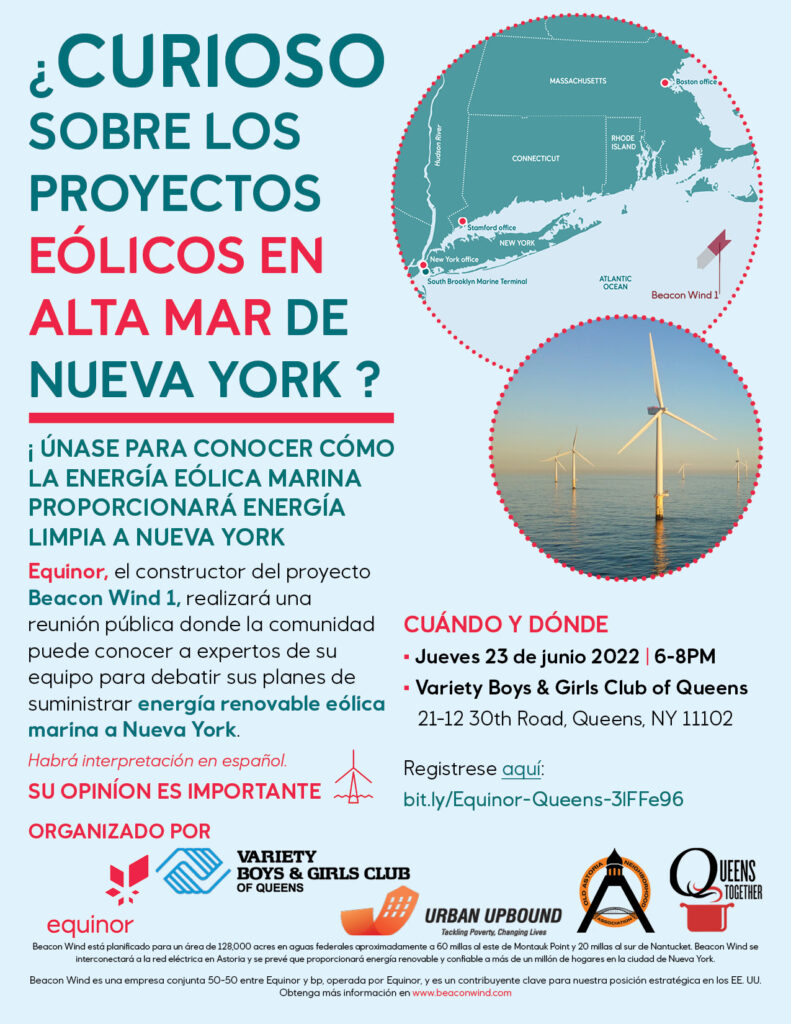 ---